Exploring Disability, 2nd Edition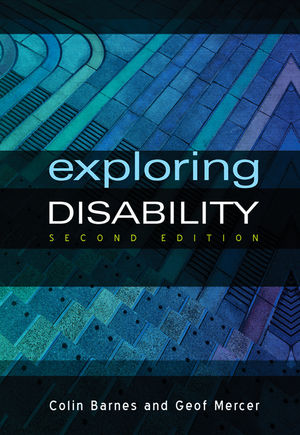 Exploring Disability, 2nd Edition
ISBN: 978-0-745-69891-5 May 2018 Polity 288 Pages
Download Product Flyer
Download Product Flyer
Download Product Flyer is to download PDF in new tab. This is a dummy description. Download Product Flyer is to download PDF in new tab. This is a dummy description. Download Product Flyer is to download PDF in new tab. This is a dummy description. Download Product Flyer is to download PDF in new tab. This is a dummy description.
Description
The second edition of this widely used text has been carefully rewritten to ensure that it is up-to-date with cutting-edge debates, evidence, and policy changes. Since the book's initial publication, there has been an expansion of interest in disability in the social sciences, and disability has come to play an increasingly prominent role in political debates. The new edition takes account of all these developments, and also gives greater emphasis to global issues in order to reflect the increasing and intensifying interdependence of nation states in the twenty-first century.
The authors examine, amongst other issues,the changing nature of the concept of disability, key debates in the sociology of health and illness, the politicisation of disability, social policy, and the cultural and media representation of disability. As well as providing an excellent overview of the literature in the area, the book develops an understanding of disability that has implications for both sociology and society.
The second edition of Exploring Disability will be indispensable for students across the social sciences, and in health and social care, who really want to understand the issues facing disabled people and disabling societies.
Table of contents
Acknowledgements
Preface to the Second Edition
Chapter 1. Introduction: Analysing Disability

Grass roots mobilisation
Sociological perspectives
A brief word on terminology
Overview of the book

Chapter 2. Competing Models and Approaches

Socio-historical perspectives
The individual or medical model of disability
Looking beyond individual solutions
The social model of disability
The biopsychosocial model of disability
Review

Chapter 3. Sociological Approaches to Chronic Illness and Disability

Functionalism, Parsons and the sick role
Labelling perspectives and stigmatisation
Negotiated and interpretive accounts
Medical and professional dominance
Towards a political economy of medicine and sickness
Embodiment and post structuralism
Review

Chapter 4. Theories of Disability

Welfarism and its discontents
Theories of disability and oppression
Disability and social divisions
Postmodernism: back to the future?
Review

Chapter 5. Social Exclusion and Disabling Barriers

Disability policy and the welfare state
Education
Financial circumstances
Employment
Built environment, housing and transport
Leisure and social participation
Review

Chapter 6. Routes to Independent Living

The critique of residential institutions
Policy direction towards independence
Care or independence?
User led organisations centres for independent living
Direct payments
Service user involvement
Review

Chapter 7. Politics and Disability Politics

Politics and disabled people
Civil rights and legislation
A new social movement?
Identity politics
Review

Chapter 8. Culture, the Media and Identity

Sociological approaches to culture
Cultural representations of disability
Cultural studies approaches
Towards a disability culture
Review

Chapter 9. Disability and the Right to Life

Ethics, culture and rights
Disability and Eugenics
Disability and biotechnology
Life and death decisions
Review

Chapter 10. Disability and Development: Global Perspectives

Disability, industrialisation and globalization
Comparative perspectives on impairment
Poverty, disability and social exclusion
Internationalization of disability policy
Disability activism: mobilizing for change

Review
Bibliography
Reviews
"The key debates around disability are given a thorough airing in this revised edition of a widely used text"
Times Educational Supplement
"If students and teachers want one resource to assist in their exploration of disability studies, then this is it. It's up-to-date, comprehensive and coherent, outlining the key themes and issues in a readable way. No-one studying disability on an undergraduate, postgraduate or profession training course should be without it."
Mike Oliver, Emeritus Professor, University of Greenwich
 "A deep commitment towards the rights of people with disabilities within the social model of disability shines throughout the entire book, and drives the reader in exploring disability theories with interest and passion."
Angela Genova, University of Urbino
"Exploring Disability is an important, up-to-date, critical and wide-ranging review of key issues that situates the debates and discussion within the growing literature on disability. Exploring Disability should be on the reading lists of many disability studies courses providing as it does the broad overview of where both the discipline and the movement are today. It is a must for academics, policy makers, researchers, and the disability movement."
Marcia Rioux, York Institute for Health Research, Toronto