Exploring Education Through Phenomenology: Diverse Approaches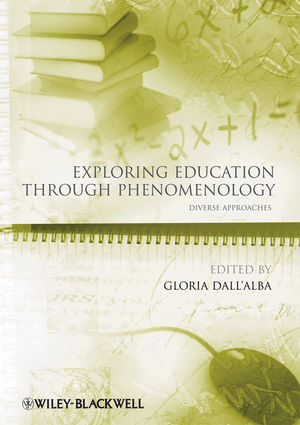 Exploring Education Through Phenomenology: Diverse Approaches
ISBN: 978-1-405-19659-8 October 2009 Wiley-Blackwell 104 Pages
Description
This book explores the resurgence of interest in phenomenology as a philosophy and research movement among scholars in education, the humanities and social sciences.
Brings together a series of essays by an international team of philosophers and educationalists
Juxtaposes diverse approaches to phenomenological inquiry and addresses questions of significance for education today
Demonstrates why phenomenology is a contemporary movement that is both dynamic and varied
Highlights ways in which phenomenology can inform a broad range of aspects of educational theorising and practice, including learning through the body, writing online, being an authentic teacher, ambiguities in becoming professionals, and school transition
Notes on Contributors.
Foreword: Heidegger, Phenomenology, Education (Michael Peters, University of Illinois).
Introduction to Diverse Approaches to Phenomenology and Education (Gloria Dall' Alba, University of Queensland).
1. The Phenomenology of Space in Writing Online (Max Van Manen and Catherine Adams, University of Alberta).
2. Gut Instinct: The Body and Learning (Robyn Barnacle, RMIT University).
3. Schools as Places of Unselving: An Educational Pathology? (Michael Bonnett, University of Bath and University of London Institute of Education).
4. Learning Professional Ways of Being (Gloria Dall' Alba, University of Queensland).
5. The Potentiality of Authenticity in Becoming a Teacher (Angus Brook, The University of Notre Dame).
6. Transition into High School: A Phenomenological Study (Krishnaveni Ganeson, Asquith Girls' High School and Lisa C. Enrich, Queensland University of Technology).
Index.
Explores the resurgence of interest in phenomenology as a philosophy and research movement among scholars in education, the humanities and social sciences
Brings together a series of essays by an international team of philosophers and educationalists
Juxtaposes diverse approaches to phenomenological inquiry and addresses questions of significance for education today
Demonstrates why phenomenology is a contemporary movement that is both dynamic and varied
Highlights ways in which phenomenology can inform a broad range of aspects of educational theorising and practice, including learning through the body, writing online, being an authentic teacher, ambiguities in becoming professionals, and school transition