Exploring Electronic Media: Chronicles and Challenges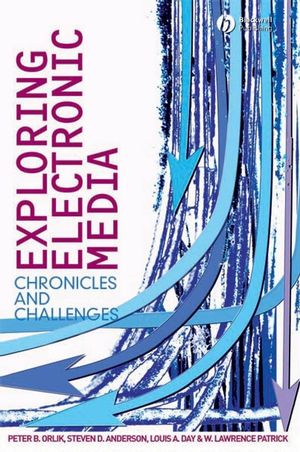 Exploring Electronic Media: Chronicles and Challenges
ISBN: 978-1-405-15055-2 January 2007 Wiley-Blackwell 296 Pages
Description
Exploring Electronic Media: Chronicles and Challenges is a concise and insightful textbook covering the dynamics of contemporary electronic media. Rapidly evolving technologies have expanded this field exponentially, creating a wealth of information that is often hard to put into perspective. Taking an approach that balances media history with contemporary analysis, Exploring Electronic Media is as practically useful as it is instructionally informative.

Written by leading authors who collectively bring a wealth of not only teaching, but also multifaceted industry experience to the subject
Covers the historical influences and contemporary issues in programming, technology, regulation and the business of media
Features chapter reviews and discussion questions, as well as an introductory chapter that orients the reader to the broad electronic media landscape
Explores the fundamentals for understanding human communication as an underpinning to the study of media communication systems
Considers the future and great potential in this ever-changing field.
Illustrations.
About the Authors.
Preface.
Acknowledgments.
1. Bringing Electronic Media into Focus. Peter B. Orlik.
Components of Communication.
Communications Vehicles.
The Broadcast and Nonbroadcast Electronic Media.
Obtaining Feedback.
Local/Network Dynamics.
Chapter Rewind.
Self-Interrogation.
Notes.
Part I: Chronicles.
2. Technological Chronicles. Steven D. Anderson.
Early Communications Breakthroughs.
Radio's Wireless Ancestors.
Attaining Radio.
Channels and the Electromagnetic Spectrum.
Television Broadcasting.
Electronic Recording – Audio.
Electronic Recording – Video.
Cable Television.
Satellite Technology.
Analog vs. Digital.
Digital Television.
Chapter Rewind.
Self-Interrogation.
Notes.
3. Content Chronicles. Peter B. Orlik.
Broadcasting: Stumbling upon a Business.
Radio's Gilt-Edged Years.
Post-War Adaptations.
Radio's Second Half-Century.
Video Enters the Living Room.
Television at Center Stage.
Content for the Second and Third Screens.
Chapter Rewind.
Self-Interrogation.
Notes.
4. Regulatory Chronicles. Louis A. Day.
Early Electronic Media Regulation.
Radio Regulation's Foundation in the United States.
Administrative Structure for Broadcast Regulation.
The Structure of the Industry.
Content Regulation.
Political Programming and the Public Sphere.
Policing New Technologies.
Chapter Rewind.
Self-Interrogation.
Notes.
5. Business Chronicles. W. Lawrence Patrick.
The Mass Audience.
The Rise of the Network Model.
Cable Flexes Its Muscles.
New Technologies Change the Business.
Vertical Integration as a Survival Strategy.
A Smaller Slice of a Larger Pie.
Chapter Rewind.
Self-Interrogation.
Notes.
Part II: Challenges.
6. Technological Challenges. Steven D. Anderson.
Changes to Traditional Media.
Device Convergence.
The Internet and Broadband.
Internet Applications.
Future Communication Technologies.
Chapter Rewind.
Self-Interrogation.
Notes.
7. Content Challenges. Peter B. Orlik.
The Consumer-Centric Cosmos.
A Video Programming Overview.
Video News Issues.
The Incredible Sports Hulk.
Reality Vehicles and Product Placement.
The Ethnic and Global Dimension.
Chapter Rewind.
Self-Interrogation.
Notes.
8. Regulatory Challenges. Louis A. Day.
History's Legal Lessons.
Beyond Broadcasting: Laws for New Media.
Convergence and the Legal Landscape.
The State of Electronic "Free Speech".
Chapter Rewind.
Self-Interrogation.
Notes.
9. Business Challenges. W. Lawrence Patrick.
Feeding the Media Machine.
Partners and Joint Ventures.
Consumers and Advertisers.
Restructuring the Media Landscape.
Living in a Personal Media World.
What's Ahead.
Chapter Rewind.
Self-Interrogation.
Notes.
Index.
"These four experts don't just write about the electronic media, they have spent decades shaping it! You won't find a more articulate, insightful, and relevant text to introduce your students to the field."
David Byland, Department of Communication Arts, Oklahoma Baptist University
"A fascinating approach to the past and future of electronic media."
Dom Caristi, Department of Telecommunications, Ball State University


This dynamic, new approach to teaching electronic media and culture balances a presentation of media history with analysis of contemporary media considerations and concerns.

Covers the key areas of programming, technology, regulation, and business, treating both historical aspects and contemporary conditions and projections.

Includes chapter summaries, concept check questions and endnotes.

Concise and accessible framework is practically useful and will suit a range of both academic and professional courses.