Exploring European Social Policy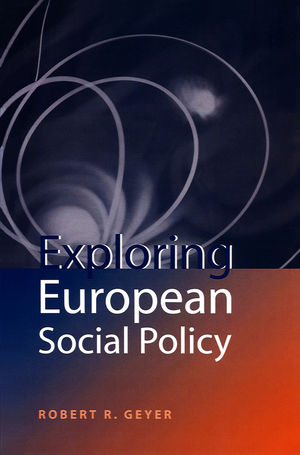 Exploring European Social Policy
ISBN: 978-0-745-66639-6 May 2013 Polity 272 Pages
Download Product Flyer
Download Product Flyer
Download Product Flyer is to download PDF in new tab. This is a dummy description. Download Product Flyer is to download PDF in new tab. This is a dummy description. Download Product Flyer is to download PDF in new tab. This is a dummy description. Download Product Flyer is to download PDF in new tab. This is a dummy description.
Description
With the growing challenges of economic globalization and national welfare state retrenchment, the development and future of EU social policy has become increasingly important. This exciting new textbook provides a comprehensive, detailed and up-to-date overview of this contested area and examines whether EU social policy is strengthening or weakening European social policy regimes.
The book begins with a general outline of the postwar development of EU social policy and its evolving relationship to the theory and practice of European integration. Then it provides a detailed and theoretically engaged description of the main areas of EU social policy including: labour, gender, anti-poverty, anti-discrimination, elderly, disability, youth, and public health policy. There is also a chapter exploring the social policy role of the structural funds, particularly the European Social Fund. The book concludes by arguing against both sides of the strengthening/weakening debate, calling for a more subtle analysis of the effects of EU social policy on national social policy regimes.

This book is the most up-to-date and comprehensive available and offers the reader a detailed and accessible exploration of the area. It will be essential reading for anyone studying the EU or national social policy, as well as for practitioners in the field.
Table of contents
Preface.
Introduction.
1. European Social Policy 1950-1969.
2. TEuropean Social Policy 1970-1999.
3. Labour Policy: Core Areas.
4. Labour Policy: Extensions.
5. Gender Policy: From Article 119 to "Mainstreaming".
6. The Structural Funds and the European Social Fund.
7. Expansion and Extensions I.
8. Expansion and Extensions II.
9. The Future of European Social Policy.
Appendix.
Notes.
References.
Index.
Reviews
'The "deepening" of the European integration process - the single market, the single currency and the like - raises major questions about the role of the EU in social policy and the sustainability of different national models. Geyer's book provides a timely, well-informed discussion of these pressing issues, combining theoretical reflection with history and detailed empirical analysis. Its accessible style means that students, policy specialists, and tutors can each benefit from it.'
Professor Kevin Featherstone, Department of European Studies, Bradford University
'Geyer considers European Union social policy broadly over the past half century, including issues of employment, gender, antipoverty, health and safety, youth and the elderly, and focuses on the late 1980s and early 1990s ... Geyer has provided a firm and useful base upon which future scholars can build. Carefully researched with an extensive bibliography.' Choice
Features
* An outstandingly comprehensive and up-to-date introductory textbook that examines all the main areas of EU social policy.

* Gives a clear explanation of the development, scope and impact of EU social policy from inception to the present day.

*Assumes no prior knowledge and uses a wealth of examples and short case studies to enliven and illustrate the text.