Exploring Leadership: For College Students Who Want to Make a Difference, Facilitation and Activity Guide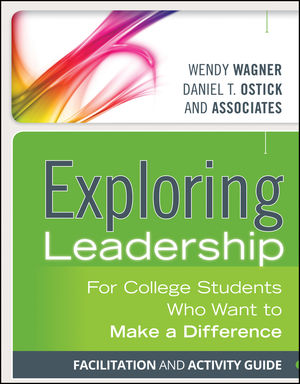 Exploring Leadership: For College Students Who Want to Make a Difference, Facilitation and Activity Guide
ISBN: 978-1-118-39949-1 May 2013 Jossey-Bass 304 Pages
Description
Exploring Leadership For College Students Who Want to Make a Difference, Facilitation and Activity Guide
Based on the third edition of the best-selling text Exploring Leadership, this companion Facilitation and Activity Guide is designed to help educators work with students to develop their leadership potential in order to become effective leaders.
The guide contains dynamic teaching strategies and active learning modules that can be used for organizing a course or workshop series. Created by renowned leadership educators in higher education, these modules have proven to be effective in classroom-tested exercises.
Designed to be flexible, the active learning modules can be used in either curricular or cocurricular settings and can be structured to build on each other or stand alone. Each module corresponds with a chapter of Exploring Leadership as well as units in the companion Student Workbook, which includes worksheets, discussion questions, journal prompts, and space for reflective writing.
Praise for Exploring Leadership: Facilitation and Activity Guide
"This is a must-have resource for anyone teaching or facilitating leadership education. It does what many other resources fail to do it gives tangible, real-world applications of complex content that can be used immediately!" —John Dugan, assistant professor, Loyola University Chicago
"Wendy Wagner, Daniel Ostick, and colleagues have done a phenomenal job designing powerful learning activities for students using the third edition of Exploring Leadership. Leadership educators will benefit from their years of experience. We are thrilled to join them in helping college students develop their leadership capacity." —Susan Komives, Nance Lucas, and Tim McMahon, authors of Exploring Leadership, Third Edition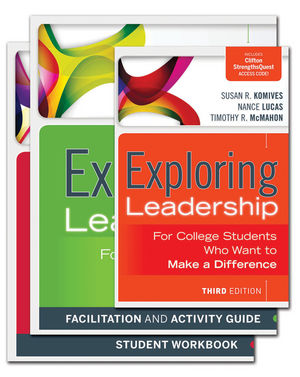 Purchased Together:$125.00
About the Authors ix
Introduction xi
Teaching Leadership xiii
Leadership Identity Development xxi
Module 1a, Introduction to Leadership
Laura Osteen, Florida State University 1
Module 1b, Exploring the Meaning of Leader and Follower
Aaron Asmundson, University of Minnesota 8
Module 2a, What Is Leadership? Myths, Truths, and Definitions
Kristan Cilente Skendall, University of Maryland, College Park 15
Module 2b, Generations of Leadership Theory
Michelle L. Kusel, Loyola University Chicago 20
Module 2c, Emerging Leadership Theory
Wendy Wagner, George Mason University 24
Module 3a, The Relational Leadership Model
Sean Gehrke, University of Southern
California 31
Module 3b, Being Purposeful
Paul Stonecipher, Florida State University 41
Module 3c, Being Inclusive
Tom Segar, Shepherd University 47
Module 3d, Being Empowering
Steve Mills, Florida State University 53
Module 3e, Being Ethical
David Rosch and Kirstin Phelps, University of Illinois at Urbana-Champaign 59
Module 3f, Being Process Oriented
Chris Bohle, Hope College 68
Module 4a, Exploring Strengths
Katherine Hershey Conlon, University of
Maryland, College Park 74
Module 4b, Self-Awareness: Strengths, Values, and Beliefs
Sunshine Workman, University of California,
Berkeley 80
Module 4c, Leadership Skills Assessment
William Smedick, Johns Hopkins University 86
Module 5a, Developing a Multicultural Mindset
Mark Anthony Torrez, Emory University 95
Module 5b, Gender Influences on Leadership
Paige Haber-Curran, Texas State University-San Marcos 100
Module 5c, Cultural Influences on Leadership
Stephanie H. Chang, University of Maryland, College Park 110
Module 5d, Leadership and Communication
Kathryn A. Sturtevant, Texas A&M University 118
Module 6a, Creating and Sustaining an Ethical
Organizational Environment
Wendy Wagner, George Mason University 124
Module 6b, Assumptions About Ethical Leadership
Daniel Ostick, University of Maryland, College Park 130
Module 6c, Ethical Decision Making
Nick Lennon, George Mason University 137
Module 7a, What Is Community andWhy Is It Important?
Kathleen Callahan, Florida State University 146
Module 7b, Community Building
Laura McMaster, East Carolina University 154
Module 8a, Understanding Groups and Group Development
Melissa Shehane, Texas A&M University 161
Module 8b, Group Dynamics and Group Roles
Eric Kaufman, Virginia Tech University 166
Module 8c, Creative Conflict in Groups
Daniel Tillapaugh, University of Maine 173
Module 8d, Group Decision Making
Daniel Ostick, University of Maryland, College Park 183
Module 8e, Roles in Teams and Groups
Meredith A. Smith and Tyler L. McClain, Fairfield University 191
Module 9a, Understanding Complex Organizations
Dave Dessauer, University of Maryland, College Park 202
Module 9b, Organizational Culture
Kerry Priest, Kansas State University 207
Module 10a, Understanding Individual Change
Jillian Volpe White, Florida State University 213
Module 10b, Facilitating Change in Organizations
Sarah Edwards, Texas A&M University 218
Module 11a, Social Change Model of Leadership
Development
Antron Mahoney, Florida State University 224
Module 11b, Building Coalitions for Collective
Action
Wendy Wagner, George Mason University 229
Module 11c, From Service to Civic Engagement
Jennifer M. Pigza, Saint Mary's College of California 235
Module 11d, Identifying Critical Issues: Finding Your
Passion
Josh Hiscock, The George Washington University 242
Module 11e, Appreciative Inquiry
Julie Owen, George Mason University 248
Module 12a, Well-Being
Stacey Guenther, George Mason University 255
Module 12b, Renewal
Stacey Guenther, George Mason University 262