Exploring Management, 3rd Edition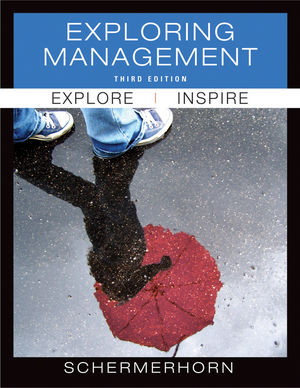 Exploring Management, 3rd Edition
ISBN: 978-1-118-21502-9
Oct 2011
592 pages
Product not available for purchase
Description
We've Got You Covered for your principles of management course. Wiley provides the most current content, comprehensive resources, and flexible format options to help teachers teach and students learn. Our commitment to Currency, Global Issues, Sustainability and Learning Outcomes translates into a suite of teaching and learning options that seamlessly integrate into your management courses.

Exploring Management 3e supports teaching and learning of core management concepts by presenting material in a straight-forward, conversational style with a strong emphasis on application. With a focus on currency, high-interest examples and pedagogy that encourages students to personalize the learning experience, the 3rd Edition opens up the study of management for students to explore.

Offering a variety of teaching resources and the concept-based assessment of WileyPLUS, Exploring Management 3e fosters a learning environment that will inspire success in and out of the classroom. WileyPLUS provides a clear roadmap for students and builds confidence by taking the guesswork out of studying.
Managers and Management
1 Managers and the Management Process: Everyone becomes a manager someday 2
2 Management Learning: Great things grow from strong foundations 30
3 Ethics and Social Responsibility: Character doesn't stay home when we go to work 54
Planning and Controlling
4 Managers as Decision Makers: There is no substitute for a good decision 84
5 Plans and Planning Techniques: Get there faster with objectives 110
6 Controls and Control Systems: What gets measured happens. 132
7 Strategy and Strategic Management: Insight and hard work deliver results 156
Organizing
8 Organization Structure and Design: It's all about working together 178
9 Organizational Cultures, Innovation, and Change: Adaptability and values set the tone 204
10 Human Resource Management: Nurturing turns potential into performance 230
Leading
11 Leadership: A leader lives in each of us 256
12 Individual Behavior: There's beauty in individual differences 282
13 Motivation: Respect unlocks human potential 306
14 Teams and Teamwork: Two heads really can be better than one 330
15 Communication: Listening is the key to understanding 358
Environment
16 Diversity and Global Cultures: Th ere are new faces in the neighborhood 382
17 Globalization and International Business: Going global isn't just for travelers 402
18 Entrepreneurship and Small Business: Taking risks can make dreams come true 422
Skill-Building Portfolio SB-1
Cases for Critical Thinking C-1 
• New Design: The 3rd Edition has been completely redesigned to support the way students read textbooks and master concepts.
• NEW Skill-Building Portfolio: This section includes self assessments, class exercises and team projects, which correspond to every chapter in the text, including teaching notes in the Instructor's Manual.
• NEW Fast Company 30-Second MBA Videos:  Video collection features Fast Company's 30-Second MBA videos, an ongoing video "curriculum" of insightful advice from business leaders of today.

• Integrated Study Guide: A one-page checkpoint at end of each section provides a quick review and assessment.
• Experiential Exercises:  Class activities offered throughout the text provide opportunities for discussion and debate.
• Applied Pedagogy:  Features like skill builders, active learning activities and team projects give students frequent opportunities to apply management concepts.