Exploring Management, 6th Edition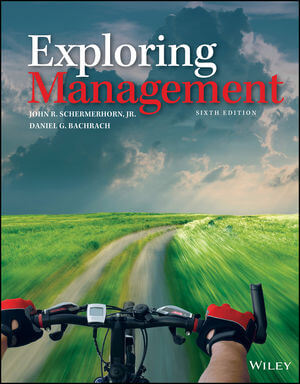 Exploring Management, 6th Edition
ISBN: 978-1-119-39586-7
Oct 2017
Description
Exploring Management supports teaching and learning of core management concepts by presenting material in a straightforward, conversational style with a strong emphasis on application. With a focus on currency, high-interest examples and pedagogy that encourages critical thinking and personal reflection, Exploring Management is the perfect balance between what students need and what instructors want.
1. Managers and the Management Process
2. Management Learning: Past to Present
3. Ethics and Social Responsibility
4. Managers as Decision Makers
5. Plans and Planning Techniques
6. Controls and Control Systems
7. Strategy and Strategic Management
8. Organization Structure and Design
9. Organizational Cultures, Innovation, and Change
10. Human Resource Management
11. Leadership
12. Individual Behavior
13. Motivation
14. Teams and Teamwork
15. Communication
16. Diversity and Global Cultures
17. Globalization and International Business
18. Entrepreneurship and Small Business
Updates: All features in the course, including Ethics Check, Facts to Consider, Hot Topics, and Quick Cases, have been updated, providing students with fresh examples for learning.
Updated Cases: The casebook includes new cases on Uber, Snapchat, and crowdfunding.
Career Success Resources: Integrated resources are housed in an easy to find Career Center for students and include videos authored by a career coach, a step-by step guide, tools that enable students to create their own e-portfolio, and a Job/Internship search resources. The career center now includes Universum - a global leader in employer branding. Users participate in a survey with college students across the country to gain data that is shared with employers, to help employers attract the right talent that fits their company culture/goals. After students complete the survey, they get a free personal report that tells them more about their strengths/skill-sets/interests.
Student-Centered Design: Organized by study objectives and broken up into more manageable sections of material, the design of the narration supports student comprehension and mastery of concepts.
Integrated Study Guide: Throughout the narrative, one-page checkpoints at the end of each section provide a quick review and opportunity for self-assessment. This includes a one-page Test Prep at the end of each section which covers material from the entire section.
Applied Pedagogy: Features like skill builders, active learning activities and team projects give students frequent opportunities to apply management concepts.
Experiential Exercises: Class activities offered throughout the narrative provide opportunities for discussion and debate.
Skill-Building Portfolio: The Skill-Building Portfolio includes self-assessments, class exercises and team projects corresponding with every section of the course (and with teaching notes in the Instructor's Manual).