Exploring Philosophy: The Philosophical Quest, 2nd Edition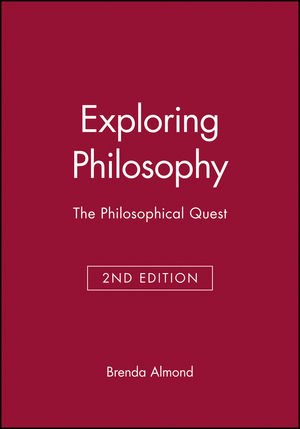 Exploring Philosophy: The Philosophical Quest, 2nd Edition
ISBN: 978-0-631-19485-9 January 1995 Wiley-Blackwell 248 Pages
Description
In this new, revised and expanded edition of her classic introduction, Brenda Almond takes the reader on a progressive exploration through the main areas of contemporary philosophy.
Preface.
1. A Starting Point.
2. Looking Inwards.
3. Looking Outwards.
4. Applying Justice.
5. Thinking About Reasoning.
6. Talking about Things.
7. Thinking about Minds.
8. Seeing Further.
9. Moving On.
Appendix: Kant Mottoes.
Bibliography.
Index.
".personal introductory offering which invites the reader to observe her thought processes as she meditates the central questions."
Times Literary Supplement, April

"Exploring Philosophy is a brave and largely successful attempt to do something new with the tradition of philosophy introductions. If my first year students had to read just one book all year, this is the one I would recommend." Ross Cogan, University of Bristol
" If my first year students had to read just one book all year, this is the one I would recommend". Ross Cogan, Teaching Assistant ( Cogito:Summer 1995)
".engaging, accessible, and up-to date introductory volume....The extensive reading guides at the end of each chapter are excellent... However, Almond's book has the clear benefit of focusing on issues as they are currently viewed by leading philosophers, among them Davidson, Derrida, Putnam, Quine, and Rorty. Suitable for general readers and the lower-division undergraduates." Choice
"This engaging, accessible, and up-to-date introductory volume.The extensive reading guides at the end of each chapter are excellent. Almond's book has the clear benefit of focusing on issues as they are currently viewed by leading philosophers, among them Davidson, Derrida, Putnam, Quine and Rorty" Choice
"Brenda Amond is to be thanked by any newcomer to philosophy, and by any teacher... It makes philosophy interesting, do-able, but without false promises - or false disapoointments. " Richard Ashcroft, University of Liverpool, Society for Applied Philosophy, 1996
Revised and expanded edition of a popular introduction to philosophy
Presented in the form of a quest, Almond's personal approach ignites the philosophical thoughts of every reader
This bold and thoroughly practical text is well supported by references and bibliographies