Exploring iPad 2 For Dummies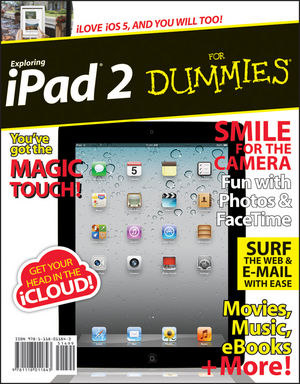 Exploring iPad 2 For Dummies
ISBN: 978-1-118-01184-3
Jul 2011
144 pages
Product not available for purchase
Description
Get incredible iPad information in a whole new Dummies format!
The iPad combines the best of your favorite gadgets into one awesome ultraportable touch device. And, this unique Dummies guide is your one-of-a-kind resource for making the most of all your iPad or iPad 2 has to offer. Packed with full-color graphics, informative articles, and easy-to-follow step lists, Exploring iPad 2 For Dummies is the latest, must-have iPad accessory.
Learn to navigate the multitouch interface, surf the web, view maps, and even get driving directions, all with a simple touch

Listen to your favorite tunes, watch videos, unwind with a great book, video chat with FaceTime, and find apps to indulge all your interests

Shoot HD video and photos, add awesome effects, and share it all online

Discover cool iPad accessories, customize your device, and get tips for keeping your iPad happy
You'll have the magic touch and uncover all the amazing things your iPad can do with help from Exploring iPad 2 For Dummies.
Introduction.
iPad Basics.
Feature 1: What's New in iPad 2.
Taking a Web Safari.
Setting Up E-Mail.
Feature 2: Adventures in Mail Management.
Admiring Pictures.
Playing Your Tunes.
iPad Productivity.
Locating Anything.
Feature 3: Let the iPad Direct You.
Seeing Is Believing.
Discovering Apps.
Feature 4: A Gallery of Apps.
Your iPad as a Reader.
Routine Upkeep.
Feature 5: Tried-and-True Troubleshooting.