Exploring the Digital Library: A Guide for Online Teaching and Learning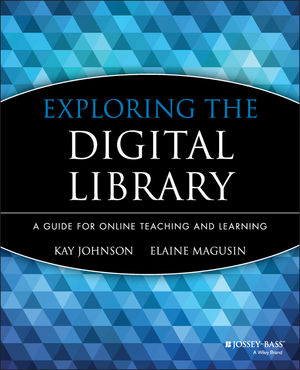 Exploring the Digital Library: A Guide for Online Teaching and Learning
ISBN: 978-0-787-97627-9 July 2005 Jossey-Bass 176 Pages
Description
Exploring the Digital Library, a volume in The Jossey-Bass Online Teaching and Learning series, addresses the key issue of library services for faculty and their students in the online learning environment. Written by librarians at Athabasca University, a leading institution in distance education, this book shows how faculty can effectively use digital libraries in their day-to-day work and in the design of electronic courses. Exploring the Digital Library is filled with information, ideas, and
Discusses how information and communication technologies are transforming scholarship communication
Provides suggestions for integrating digital libraries into teaching and course development
Describes approaches to promoting information literacy skills and integrating these skills across the curriculum
Outlines the skills and knowledge required in digital library use
Suggests opportunities for faculty and librarians to collaborate in the online educational environment
Preface.
Acknowledgments.
About the Authors.
1. Digital Libraries: A Cultural Understanding.
Digital Libraries in the Matrix of Digital Culture.
Defining Digital Libraries.
Transforming the Academic Library.
Digital Library Culture.
2. New Dynamics for Scholarly Communication.
Many-to-Many Relationships in the Digital Library.
New Opportunities for Scholarly Communication.
Sharing in the Online Community.
Academic Culture Meets Digital Culture.
3. Digital Libraries in Teaching and Course Development.
The Digital Library and Teaching in Distance Education.
Course Development.
Challenges in Supporting Students at a Distance.
Learning Styles.
Faculty Development.
4. Beyond the Mechanics of Online Retrieval: Information Literacy.
What Is Information Literacy?
Library Literacy and Beyond.
The Necessity of Evaluation.
Integrating Information Literacy.
Development of Skills.
Integrating Information Literacy into the Curriculum.
Assessment.
5. Using the Digital Library in Higher Education.
Understanding Online Systems.
Using Digital Information in Higher Education.
6. Faculty-Librarian Collaboration in Online Teaching and Education.
Collaborative Efforts.
Leadership Roles.
Collection Development.
Teaching and Instruction.
Marketing the Library and Its Services.
The Importance of Organizational Climate.
7. Collaborating on Information Literacy: Case Study 1.
Research Guides.
Help Centre.
The Digital Reference Centre.
INFS 200: Accessing Information.
8. Collaborating on the DRR and Reusing Learning Resources: Case Study 2.
The Digital Reading Room.
The Collaboration.
The Evaluation.
Beyond Course Reserves: Reusable Digital Resources.
9. Beyond Digital Library Culture Barriers.
Humans and Computers Interacting.
Easier-to-Use Digital Libraries.
Appendix: Web Resources.
References.
Index.