Exploring the Guitar For Dummies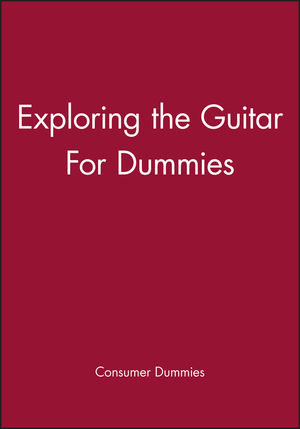 Exploring the Guitar For Dummies
ISBN: 978-0-470-97874-0
Dec 2010
128 pages
Product not available for purchase
Article.
1. Guitar.
Getting to grips with how guitars and guitar notation work.
2. To Sit or to Stand, and How to Hold Your Hands.
Positioning yourself to play guitar.
3. Perfectly Good Guitars.
Matching yourself with different types of guitar.
Feature 1: Guitar Goodies You May Want (But Don't Absolutely Need).
4. Tuning Your Guitar: Five Methods for Fixing Flats.
Ensuring that your guitar sings as it should.
5. The Easiest Way to Play: Basic Major and Minor Chords.
Nailing the most essential chords.
6. Adding Some Spice with Basic 7th Chords.
Expanding your guitar vocabulary with more complex chords.
7. Playing Melodies in Position and in Double-Stops.
Navigating your way further up the fretboard to learn more guitar-playing tricks.
Feature 2: Ten Guitarists You Should Know.
8. Stretching Out: The E-based Barre chords.
Going mobile with movable chords based in E.
9. Moving through the Barre Chords Based on A.
Stepping up a gear into A: Staying on the move with barre chords.
10. Special Articulation: Putting the Play in Your Playing.
Giving expression to your playing: The birth of the cool.
Feature 3: Ten Guitars You Should Know.
11. Making the Guitar Talk by Bending Strings.
Lending your guitar a 'voice' with bends and vibrato.
12. Playing Rock Guitar.
Ripping it up with some rock rhythm and lead playing.
13. Playing the Blues.
Getting your mojo working by playing like B.B. King and Eric Clapton.
14. Tackling Techniques of Classical Guitar.
Getting serious with a new approach to playing the guitar.
Feature 4: Improving Your Musicianship.
15. Guitar Accessories.
Kitting yourself out with the essential gear any self-respecting guitarist should have.
16. Getting Strung Along: Changing Strings.
Mastering the fiddly business of removing and restringing different types of guitar.
17. The Care and Keeping of Guitars.
Taking on board a few tips for maintaining your guitar in top condition.
18. Handling Do-It-Yourself Repairs.
Knowing which repair jobs to tackle yourself and when to call in the professionals.
Feature 5: Figuring Out What Ails Your Axe.