Extreme Facilitation: Guiding Groups Through Controversy and Complexity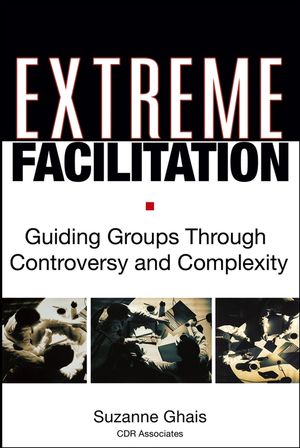 Extreme Facilitation: Guiding Groups Through Controversy and Complexity
ISBN: 978-0-787-97593-7
Mar 2005, Jossey-Bass
304 pages
Description
Extreme Facilitation picks up where other books on the topic leave off to present a revolutionary method that helps large, unwieldy, adversarial, and apparently dysfunctional groups achieve consensus and reach objectives on divisive and contentious issues no matter how long the group has been struggling. Throughout the book, expert facilitator Suzanne Ghais shows how extreme facilitation - which puts on the emphasis on creativity, flexibility, and customization - can change how group members interact with one another and how participants view the issues even in the most challenging and exceptionally difficult situations. Extreme Facilitation covers the preparatory phases of the process, including assessment, convening, and contracting. Ghais also offers vital information on process design and tips for handling situations that many facilitators find particularly challenging.
Acknowledgments.
Introduction.
Part One: Foundations.
1. The Right Stuff: What It Takes to Be an Extreme Facilitator.
2. The Facilitator as Architect.
Part Two: Preparation.
3. Assessment: The Essential First Step.
4. Convening: Creating a Democratic Table.
5. Contracting: Setting Yourself Up for Success.
Part Three: Conducting the Process.
6. Process Basics: The Beginner's Guide to Facilitation.
7. The Physical Capacity: The Foundation.
8. The Emotional Capacity: Welcoming and Working with Feelings.
9. The Intellectual Capacity: Facilitating Complex Issues.
10. The Intuitive Capacity: Sparking Insights and Ideas.
11. The Spiritual Capacity: Helping Groups Transcend Their Limitations.
12. Putting It All Together.
Bibliography.
About the Author.
Index.