Extremophiles: Sustainable Resources and Biotechnological Implications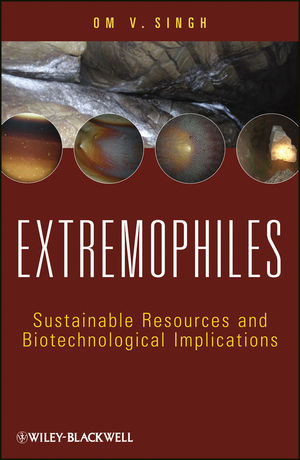 Extremophiles: Sustainable Resources and Biotechnological Implications
ISBN: 978-1-118-10300-5 November 2012 Wiley-Blackwell 456 Pages
Description
Explores the utility and potential of extremophiles in sustainability and biotechnology
Many extremophilic bio-products are already used as life-saving drugs. Until recently, however, the difficulty of working with these microbes has discouraged efforts to develop extremophilic microbes as potential drug reservoirs of the future. Recent technological advances have opened the door to exploring these organisms anew as sources of products that might prove useful in clinical and environmental biotechnology and drug development.
Extremophiles features outstanding articles by expert scientists who shed light on broad-ranging areas of progress in the development of smart therapeutics for multiple disease types and products for industrial use. It bridges technological gaps, focusing on critical aspects of extremolytes and the mechanisms regulating their biosynthesis that are relevant to human health and bioenergy, including value-added products of commercial significance as well as other potentially viable products.
This groundbreaking guide:
Introduces the variety of extremophiles and their extremolytes including extremozymes
Provides an overview of the methodologies used to acquire extremophiles
Reviews the literature on the diversity of extremophiles
Offers tools and criteria for data interpretation of various extremolytes/extremozymes
Discusses experimental design problems associated with extremophiles and their therapeutic implications
Explores the challenges and possibilities of developing extremolytes for commercial purposes
Explains the FDA's regulations on certain microbial bio-products that will be of interest to potential industrialists
Extremophiles is an immensely useful resource for graduate students and researchers in biotechnology, clinical biotechnology, microbiology, and applied microbiology.
Table of contents
Contributors xv
Introduction xix
1 MOLECULAR EVOLUTION OF EXTREMOPHILES 1
Debamitra Chakravorty, Ashwinee Kumar Shreshtha, V. R. Sarath Babu, and Sanjukta Patra
1.1 Introduction 1
1.2 Molecular Evolution of Thermophiles 2
1.3 Molecular Evolution of Psychrophiles 4
1.4 Molecular Evolution of Halophiles 6
1.5 Molecular Evolution of Alkaliphiles 7
1.6 Molecular Evolution of Acidophiles 8
1.7 Molecular Evolution of Barophiles 10
1.8 Engineering Extremophiles 12
1.9 Case Studies 17
1.10 Implications of Engineered Extremophiles on Ecology, Environment, and Health 20
1.11 Conclusions and Recommendations 20
2 ATTAINING EXTREMOPHILES AND EXTREMOLYTES: METHODOLOGIES AND LIMITATIONS 29
Debamitra Chakravorty and Sanjukta Patra
2.1 Introduction 29
2.2 Extremophiles: Types and Diversity 30
2.3 Extremolytes 54
2.4 Conclusions 64
3 STRATEGIES FOR THE ISOLATION AND CULTIVATION OF HALOPHILIC MICROORGANISMS 75
Aharon Oren
3.1 Introduction 75
3.2 Thalassohaline and Athalassohaline Hypersaline Environments 76
3.3 Case Studies 79
3.4 The Upper Salinity Limits of Different Types of Energy Generation 85
3.5 Final Comments 88
4 HALOPHILIC PROPERTIES AND THEIR MANIPULATION AND APPLICATION 95
Tsutomu Arakawa, Hiroko Tokunaga, Matsujiro Ishibashi, and Masao Tokunaga
4.1 Introduction 95
4.2 Industrial Applications of Halophilic Organisms and Their Proteins 96
4.3 Extreme and Moderate Halophiles and Their Proteins 98
4.4 Generation of Low-Salt Stable Extreme-Halophilic Proteins 99
4.5 Interconversion of Halophilic and Nonhalophilic Proteins 105
4.6 Soluble Expression of Recombinant Proteins 110
4.7 Natively Unfolded Proteins 113
4.8 Organic Solvent Tolerance 113
5 FEATURES AND APPLICATIONS OF HALOPHILIC ARCHAEA 123
Ximena C. Abrevaya
5.1 Introduction 123
5.2 General Features 124
5.3 Applications of Halophilic Archaea 130
5.4 Concluding Remarks 143
6 BIOTECHNOLOGICAL APPLICATIONS OF COLD-ADAPTED BACTERIA 159
Laura Garcia-Descalzo, Alberto Alcazar, Fernando Baquero, and Cristina Cid
6.1 Introduction 159
6.2 Molecular Mechanisms of Adaptation to Cold Environments 162
6.3 Exopolysaccharides 163
6.4 Lipids 164
6.5 Proteins 164
6.6 Biotechnological Applications of Cold-Adapted Enzymes 168
6.7 Biodegradation and Bioremediation in Cold Environments 169
6.8 Conclusions 172
7 ECOLOGY AND BIOTECHNOLOGY OF EXTREMOPHILIC MICROORGANISMS, PARTICULARLY ANAEROBIC HERMOPHILES 175
Francesco Canganella
7.1 Introduction 175
7.2 Thermophiles 176
7.3 Acidophiles 187
7.4 Alkaliphiles 191
7.5 Halophiles 193
7.6 Piezophiles 194
8 THE ROLE OF EXTREMOPHILIC MICROORGANISMS AND THEIR BIOPRODUCTS IN FOOD PROCESSING AND PRODUCTION 205
Jane A. Irwin
8.1 Introduction 205
8.2 Enzymes from Extremophiles in Food Processing 206
8.3 Alkaliphiles, Acidophiles, and Piezophiles 217
8.4 Extremophiles in Food Spoilage and Contamination 218
8.5 Extremophiles as Pathogens of Food Species 221
8.6 Conclusions 222
9 EXTREMOPHILES AND THEIR APPLICATION TO BIOFUEL RESEARCH 233
M.P. Taylor, R. Bauer, S. Mackay, M. Tuffin, and D.A. Cowan
9.1 Introduction 233
9.2 Extremophiles and Fuels 235
9.3 Exploiting Extremophilic Enzymes in Biomass Conversion to Biofuel 241
9.4 Conclusions and Future Prospects 249
10 SUSTAINABLE ROLE OF THERMOPHILES IN THE SECOND GENERATION OF ETHANOL PRODUCTION 267
Anuj K. Chandel, Ellen C. Giese, Om V. Singh, and Silvio Silverio da Silva
10.1 Introduction 267
10.2 Thermophilic Cellulases for Deconstruction of the Plant Cell Wall 269
10.3 Ethanol Production at Elevated Temperatures 274
10.4 Future Perspectives and Challenges 281
10.5 Conclusions 283
11 ECOFRIENDLY ASPECTS OF THE USE OF EXTREMOPHILIC ENZYMES IN TEXTILE SUBSTRATES 291
Bipin J. Agrawal and Sandhya Mishra
11.1 Introduction 291
11.2 Biopolymeric Fibers 292
11.3 Extremophilic Enzymes and Their Use in the Textile Industry 293
11.4 Utilization of Extremophilic Enzymes in Textile Wet Processing 297
11.5 Finishing with Extremophilic Enzymes 306
11.6 Role of Enzymes in Textile After-Care 311
11.7 Role of Enzymes in Effluent Treatment of Textiles 314
11.8 Conclusions 315
12 THE USE OF EXTREMOPHILIC MICROORGANISMS IN THE INDUSTRIAL RECOVERY OF METALS 319
Carlos A. Jerez
12.1 Introduction 319
12.2 Biomining Extremophiles and Their Industrial Applications 320
12.3 Molecular Studies in Acidophilic Biomining Microorganisms 322
12.4 Microbial Resistance to Acid and Metals 324
13 BACTERIAL POLYMERS PRODUCED BY EXTREMOPHILES: BIOSYNTHESIS, CHARACTERIZATION, AND APPLICATIONS OF EXOPOLYSACCHARIDES 335
Nicolaus Barbara, Anzelmo Gianluca, and Poli Annarita
13.1 Introduction 335
13.2 EPS Produced by Extremophilic Bacteria 336
13.3 Examples of Proposed EPS Biosynthesis from Extremophiles 345
13.4 Physicochemical Investigations for Potential Applications 349
14 BIOMEDICAL APPLICATIONS OF EXOPOLYSACCHARIDES PRODUCED BY MICROORGANISMS ISOLATED FROM EXTREME ENVIRONMENTS 357
Ignacio J. Molina, Carmen Ruiz-Ruiz, Emilia Quesada, and Victoria B´ejar
14.1 Introduction 357
14.2 Chemical Composition and Structure of EPSs 358
14.3 Physical Properties of EPSs 358
14.4 Biological Functions of EPSs 359
14.5 Exopolysaccharides Deriving from Extremophilic Organisms 359
14.6 Clinical Applications of EPSs 359
14.7 Exopolysaccharides of Halophilic Microorganisms 361
14.8 Concluding Remarks 362
15 BIOSYNTHESIS OF EXTREMOLYTES: RADIATION RESISTANCE AND BIOTECHNOLOGICAL IMPLICATIONS 367
Erin Copeland, Nicholas Choy, Prashant Gabani, and Om V. Singh
15.1 Introduction 367
15.2 Biotechnological Implications of Extremolytes 369
15.3 Fermentative Production of Extremolytes 371
15.4 Commercialization of Extremolytes and Extremozymes 380
15.5 Product Recovery 382
15.6 Conclusions 383
16 SMART THERAPEUTICS FROM EXTREMOPHILES: UNEXPLORED APPLICATIONS AND TECHNOLOGICAL CHALLENGES 389
Raj Kumar and Ajeet Singh
16.1 Introduction 389
16.2 Extremolytes as Protein Protectants 391
16.3 Extremolytes as Cell Protectants 391
16.4 Novel Therapeutics in the Developmental Stage 393
16.5 Homeland Security and Military Medicine 394
16.6 Technological Gaps in Therapeutic Product Development Using Extremophiles 396
16.7 Conclusions 397
Acknowledgment 398
References 398
Index 403