Eye Examination and Refraction, 2nd Edition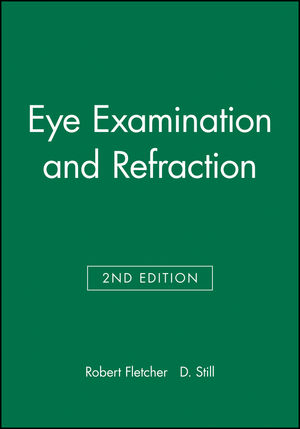 Eye Examination and Refraction, 2nd Edition
ISBN: 978-0-632-05141-0 October 1998 Wiley-Blackwell 280 Pages
Description
The routine examination is the central activity of an optometrist's work. From the exam can lead all manner of supplementary tests and decisions for patient management. Undergraduate students, students and pre-registration optometrists will find this textbook invaluable when preparing for the British College of Optometrists' professional qualifying examinations. Established and experienced optometrists will be able to use it to review their own routine and revise their approach to patient handling. The new edition has been updated and largely rewritten, particularly Part 1, and almost 40 new case histories, covering a wider range of conditions, have been added. New revision questions have been added, and there are two new appendices and many more references. A practical, clinical approach is maintained throughout.
Introduction.
Acknowledgements..
Part 1: Optometric Eye Examination.
1. The Eye Examination.
2. The Optometric Environment.
3. Essential Preliminaries.
4. Detailed Examination.
5. Fundus Examination.
6. Additional Procedures.
7. Reports and Referrals.
8. Preparation for Examinations..
Part 2: Oculo-Refractive Techniques.
Introduction.
9. Trial Lenses and Other Matters.
10. Objective Refraction.
11. Subjective Refraction.
12. The Near-Vision Prescription.
13. Changes in Refractive Errors.
14. Aspects of Prescribing.
15. Some Special Patients.
16. Accessories Used in Ocular Refraction..
Part 3: Refraction and Subjective Examination: Cases.
17. Advice to Younger Colleagues.
18. First Steps Prior to Examination.
19. Patients' Records.
20. Prescribing for Reading.
21. When Visual Acuity Does not Improve as Expected.
22. Field Defects.
23. Ocular Muscle Defects and Prism Prescribing Problems.
Appendices.
1. Revision Questions.
2. Test Yourself on Test Chart Standards.
3. Some Prescribing Problems for Readers.
4. Guidelines Issued by the College of Optometrists, September 1997.
References and Select Bibliography.
Index.
* comprehensive textbook covering the fundamental procedures all optometrists need for their professional work
* essential for third and fourth year undergraduates, for practitioners needing to update and for the Professional Qualifying Examination
* practical, clinical approach with around 100 case histories