FDNY Crisis Counseling: Innovative Responses to 9/11 Firefighters, Families, and Communities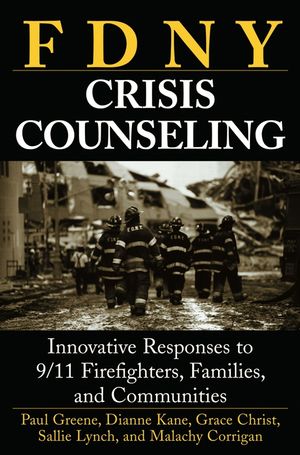 FDNY Crisis Counseling: Innovative Responses to 9/11 Firefighters, Families, and Communities
ISBN: 978-0-471-71425-5 April 2006 288 Pages
Description
Advance praise for FDNY Crisis Counseling

"This riveting book . . . underscores the need for creativity, modesty, clinical acumen and cultural sensitivity in response to trauma. One ends up in awe both of the lost and surviving firefighters and their courageous families. And the reader emerges with a profound respect for the extraordinary CSU staff who literally came to their rescue."
--Paul A. Kurzman, PhD, ACSW, Professor and Chair of Work, Employment, and Rehabilitation Programs at the Hunter College School of Social Work of the City University of New York

"This remarkable book comprises a major contribution to the crisis treatment literature. Overall, many will benefit from this careful, well documented explication of an approach to disaster counseling over time."
--Katherine Shear, MD, Professor of Psychiatry in Social Work, Columbia University School of Social Work

Developing and implementing effective crisis counseling techniques in response to mass trauma

Shortly after the September 11th attacks, as the New York City Fire Department (FDNY) started their recovery work in the ruins of the World Trade Center, a large-scale mental health response within the FDNY swung into action, initiated by staff in the department's Counseling Services Unit (CSU). FDNY Crisis Counseling: Innovative Responses to 9/11 Firefighters, Families, and Communities tells the story of this ongoing response from the perspective of those who put it into practice.

Using narrative, case studies, and other real-world examples, this unique new resource lays out a roadmap for applying innovative approaches to disaster response and the prevention of Posttraumatic Stress Disorder. The pioneering efforts of the CSU present a model for all mental health professionals working with organizations, communities, individuals, and families.
* A brief history of the CSU
* FDNY culture and the impact of 9/11
* Shaping services to meet 9/11 needs
* Providing help to families, including widows and children
* Partnering with other agencies and cargivers to deliver services
Preface. Acknowledgments.
Chapter 1. Introduction.
Chapter 2. Coping with Chaos.
The Counseling Service Unit Pre-9/11. The CSU Response to 9/11. Assessing the Community. Receiving Outside Help. CSU Expansion. Connecting with the Firefighting Community. Connecting with Families. Family Liaisons. Moving Forward. Defining a Timeline for Your Community.
Chapter 3. Understanding Culture.
Cultural Identity. Applying cultural Identity to Intervention. Firefighting History and Tradition in
New York City
. The FDNY as a paramilitary Organization. Everyday Life in the Firehouse. Rituals and Rank. Common Bonds. Family Ties That Bind. Heroics, Media, and Politics. The Brotherhood and Its Loss.
Chapter 4. Shaping Services to Meet Emerging Needs.
Assessment and Planning. How the Nature of the Event Shapes the response. Listening and Responding to Emerging Needs. Strengthening the CSU Identity. Establishing Provider Networks. Building a Staff: Both Peer and Professional. Care for the Caregivers. Keeping the Machinery Going: Funding and Resource Development. Thoughts for the Future.
Chapter 5. Providing Help in the Workplace: The Firehouse Clinician Project.
The Mindset of FDNY Firefighters. The Intervention: Placing Clinicians in Firehouses. The Population: Defining Who Needed Services. Theoretical Orientation. Intervention Goal. Selecting and Training Firehouse Clinicians. The First Visit to the Firehouse. Revamping Professional Boundaries. Preparing to Be a Firehouse Clinician. Termination Countertransference: The time to leave the Firehouse.
Chapter 6. Modifying Psychotherapy for Individuals.
Individual Psychotherapy with Firefighters. The Parameters of Individual Treatment. Choosing Individual Psychotherapy. Implications for Psychotherapy Technique. Summary.
Chapter 7. Finding Comfort in Groups.
Why Group Intervention? Therapy Groups versus Support Groups. Trauma Groups. On-Site Interventions. Office-Based Groups: Middle and Later Phase. Importance of Homogeneity in Group Formation. Traumatic Bereavement Groups. Single-Session Groups. A Final Word about Groups.
Chapter 8. Providing a Home-Based Therapeutic Program for Widows and Children.
Understanding the Experience for Mothers and Children. Developing CSU Services for Bereaved Families. Creating a Preliminary Model for the Family Program. Preliminary trauma, Grief, reconstruction Model. Implementing the Family Program. Intervention Goals for Children and Adolescents. Intervention Goals for Adults. Therapeutic Approaches. Lessons Learned.
Chapter 9. Strengthening Connections within the Family at Home.
The Impact of Trauma on Relationships. Reaching Out to families. Developing an Effective Intervention. The Couples Connection Weekend. Lessons Learned.
Chapter 10. Assisting Retirees in Transition.
When the Losses of 9/11 Were compounded by the Loss of a Job. The Retiree Experience. The Stay connected Program. Lessons Learned.
Chapter 11. Conclusion.
Protracted Time Lines. Community of Grievers. Crisis Counseling over the Long Haul. Public versus private Mourning. The Value of Pre-planning. Posttraumatic Growth. Postscript. References. Index.