FRS Yorke: and the Evolution of English Modernism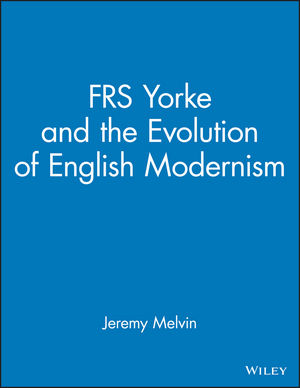 FRS Yorke: and the Evolution of English Modernism
ISBN: 978-0-471-48960-3 May 2003 136 Pages
Description
FRS Yorke was an influential architect in the early part of this century and his work is still referred to and seen as forward-thinking today. No other book has been written on Yorke, despite some titles being written about the mega-firm YRM, of which he was the founding member. Yorke was the most influential figure of British Modernist architecture and was known internationally. Yorke wrote and published The Modern House, one of the most influential books of the Modern Movement. Modernist architecture and its executors have influenced every architectural style since the beginning of this century.
* Melvin is the only writer to have complete access to all the Yorke archives
* This is the first book to be written on Yorke, despite some titles being written about the mega-firm YRM, of which he was the founding member
* This book provides the first opportunity to learn the full details of this incredible life and will be a fascinating volume for anyone remotely interested in the development of Modern Architecture
Foreword.
Introduction.
Chapter 1 - Publishing Architecture in the 1930s: The Architectural Press and The Modern House.
Chapter 2 - Prefabrication and Construction.
Chapter 3 - Nude Sunbathers or Royal Tutors?: Clients and Patrons in the 1930s.
Chapter 4 - Enthusiasm, Ambiguity and Opportunity: An Individual Approach to Modernist Planning.
Chapter 5 - The Fruits of Professionalism.
Chapter 6 - FRS Yorke – A Memoir 1952-62: 'If you don't like what you're doing, don't do it'.
Sources.
Selected Bibliography.
Index.
"...Melvin's book is an essential contribution to the historiography of that period..." (Building Design, 17 April 2003)
"...entertaining account..." (Country Life, 24 April 2003)
"...Wiley is on good form..." (Architects Journal, 22 May 2003)
"...refreshing and perceptive?great anecdotes...a thought-provoking volume..." (RIBA Journal, June 2003)
"...nicely produced study..." (Architectural Review, July 2003)
"...a figure who deserves an analytical, thoroughly researched book and, on this level, Melvin doesn?t disappoint..." (Blueprint, July 2003)
"...The first book written about FRS Yorke provides some illuminating insights into the father of English modernism..." (ICON, July/August 2003)
"...an excellent book - we all owe Yorke a great debt for bringing English architecture out of it's narrow confines..." (Architects Journal, Dec 03)