Fabrication Methods for Precision Optics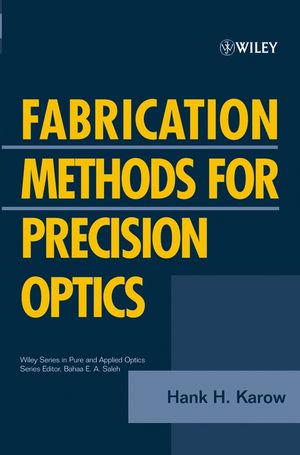 Fabrication Methods for Precision Optics
ISBN: 978-0-471-70379-2 September 2004 768 Pages
Description
Based on an unpublished revision of the standard reference in the German optics industry. Designed as a source of facts, data and definitions, it reflects state-of-the-art technology and current practices in the United States and abroad. Practical in nature, it presents optical engineers with comprehensive coverage of material, tool and design methods and testing of the final product. Easily accessible with tables, graphs and equations, it will help professionals quickly and accurately find the most suitable solutions to their optical challenges.
Table of contents
Preface.
Chapter 1. Optical Materials.
Chapter 2. Material Production and Forms of Supply.
Chapter 3. Optical Shop Supplies.
Chapter 4. Tools and Fixtures.
Chapter 5. Optical Fabrication—Methods and Machines.
Chapter 6. Optical Shop Testing-Methods and Instruments.
Index.
Reviews
"…will provide optical engineers, practicing opticians as well as those engaged in optical design, testing and manufacturing, a very handy reference tool…" (E-STREAMS, September 2005)