Facebook Advertising For Dummies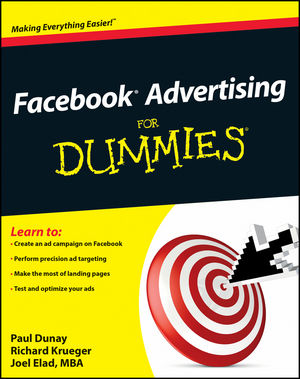 Facebook Advertising For Dummies
ISBN: 978-0-470-94893-4 October 2010 336 Pages
Description
Profitable ideas and techniques for advertising on Facebook
Tap into the explosive growth of social media and reach your customers with effective Facebook advertising campaigns and savvy insights into how to use this social media phenomenon effectively. It's all here and more in this detailed, easy-to-follow guide from two award-winning marketers. You'll learn what makes a good Facebook ad, how to apply the latest strategies and tactics for effective pay-per-click and cost-per-impression advertising, how to test your ad results, and much more.
Explores Facebook advertising inside and out; there are now more than 400 million active Facebook users and over 1.6 million active Pages on Facebook
Works as an all-around, hands-on guide for both experienced and new Facebook advertisers
Walks you through planning and creating an advertising campaign
Explains writing effective ad copy, how to use landing pages, and how to test and optimize your ads
Shows you how to use Facebook Insights to understand your results and how to create reports that analyze data
Put your company's best face forward with the sound advertising tips and techniques in Facebook Advertising For Dummies.
Introduction.
Part I: Getting Started with Facebook Advertising.
Chapter 1: Profi ting from the Facebook Revolution.
Chapter 2: Setting Up Your Facebook Account.
Part II: Launching Your Facebook Advertising Campaign.
Chapter 3: Matching Your Ads to Your Marketing Strategy.
Chapter 4: Buying Strategies.
Chapter 5: Understanding the Types of Ad Campaigns.
Chapter 6: Getting Set to Implement and Measure Results.
Part III: Managing Your Facebook Advertising Campaigns.
Chapter 7: Creating Pages for Your Campaign.
Chapter 8: Testing and Optimizing Your Ad Campaign.
Chapter 9: Tracking Conversions to Sales.
Part IV: Minding Your Metrics.
Chapter 10: Checking Out the Data.
Chapter 11: Creating Reports.
Chapter 12: Extending the Facebook Experience.
Part V: The Part of Tens.
Chapter 13: Ten Facebook Page Promotion Techniques (Besides Ads).
Chapter 14: Ten (or So) Facebook Ads Beginner Mistakes.
Chapter 15: Ten Nontraditional Facebook Ad Campaigns.
Chapter 16: Ten Resources for Facebook Advertisers.
Index.