Facebook Application Development For Dummies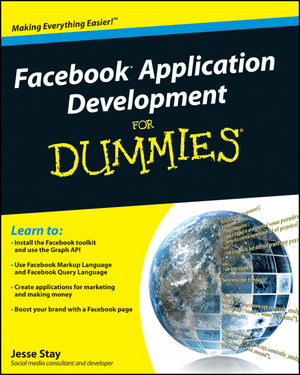 Facebook Application Development For Dummies
ISBN: 978-0-470-76873-0
May 2011
408 pages
Description
A fun and easy guide to creating the next great Facebook app!
Want to build the next runaway Facebook app like Farmville or Mafia Wars? Interested in leveraging Facebook app development as part of a marketing strategy? Whether you want to build your own Facebook app from scratch, extend an existing Facebook app, or create a game, this book gets you up and running in no time. Master the Facebook toolkit, get acquainted with the Facebook Markup and Query languages, navigate the Facebook API—even learn how to make money with your new app!
Shows you how to build the next great Facebook application with just basic HTML and scripting skills
Delves into what makes a good app and what makes a lucrative app
Explores how to create Facebook apps for marketing and viral reach, creating apps that can make money, and Facebook game development
Reviews the Facebook toolkit and gets you started with the My First Facebook application
Covers Facebook Markup and Query languages, navigating the Facebook API, and how to create a compelling interface
Create the next killer Facebook app with this approachable, fun guide!
Introduction.
Part I: Understanding the Basics of a Facebook Application.
Chapter 1: Getting Acquainted with Facebook Application Development.
Chapter 2: Building Your First Application.
Chapter 3: Delving Deeper — Understanding Your Application and Navigating the Application Setup Process.
Part II: Integrating with the Facebook.com Environment.
Chapter 4: Targeting Integration Points.
Chapter 5: Targeting Brands through Facebook Pages.
Part III: From Fishers to Farmers — Building Facebook on Your Own Site.
Chapter 6: Turning Your Web Site into a Facebook Page with Open Graph Protocol and Social Plugins.
Chapter 7: Integrating Facebook on Your Web Site through Graph API.
Chapter 8: Knowing What Information You Have Access To.
Part IV: Delving into APIs.
Chapter 9: Understanding OAuth 2.0 — The Basics of Facebook Authentication.
Chapter 10: Understanding the Essentials — Basic API Calls Every Developer Should Know.
Chapter 11: Getting Updated with Facebook's Real-Time API.
Chapter 12: Searching with Facebook's Search API
Chapter 13: Integrating Facebook into a Mobile Experience.
Chapter 14: Testing Your Application.
Part V: Turning Your Facebook Application into a Legitimate Business.
Chapter 15: Helping Your Business and Brand Benefi t from Facebook.
Chapter 16: Preparing for the Worst: What Every Facebook Application Developer Should Know.
Part VI: The Part of Tens.
Chapter 17: Ten Successful Facebook Applications.
Chapter 18: Top Ten Facebook Application Development Resources.
Index.