Facebook For Dummies, Mini Edition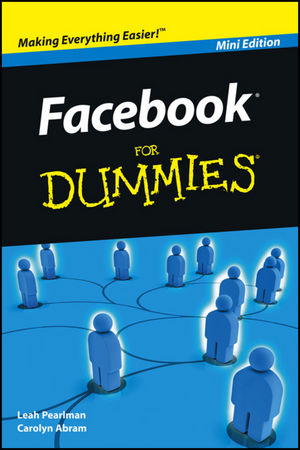 Facebook For Dummies, Mini Edition
ISBN: 978-1-118-03770-6
Dec 2010
64 pages
Product not available for purchase
Description
Sign up, build your Profile, and find friends
Join the Facebook fun! These experts show you how to set up your Profile, protect your privacy, find friends and family members, learn what's happening in their lives, and keep them up to date on yours. Here's just what you need for a safe and happy Facebook experience.
Open the book and find:
Advice for creating the perfect Profile

How to find friends

Tips on keeping in touch

Privacy controls and how to use them

Steps for sending private messages to friends
Introduction.
Part 1: Adding Your Own Face to Facebook.
What You Can Do on Facebook.
Signing Up.
Setting Up Your Profile.
Getting Verified.
Part 2: Building Out Your Profile.
Creating a Profile for Yourself.
Building a Profile for Promotion.
Sharing Yourself with Family, Friends, and the World.
Part 3: Finding Facebook Friends.
If Only Real Life Had a Friend Finder.
Find What You're Looking For: Search.
Creating Friend Lists.
Discovering the Facebook Friend Philosophy.
Part 4: Keeping Up with Your Friends.
Just between You and Me.
Public Displays of Affection.
Part 5: Privacy and Safety on Facebook.
Seeing the Win-Win of Privacy.
Getting Familiar with Your Privacy Options.
Taking Personal Responsibility for Safety.
Remembering That It Takes a Village to Raise a Facebook.
Peeking Behind the Scenes.