Facilitating the Moral Growth of College Students: New Directions for Student Services, Number 139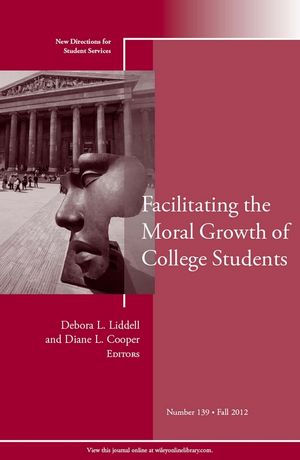 Facilitating the Moral Growth of College Students: New Directions for Student Services, Number 139
ISBN: 978-1-118-54385-6
Sep 2012, Jossey-Bass
120 pages
Description
Moral development is a powerful task of young adulthood, and attending to that development is a mandate expected of institutions of higher education. Liddell and Cooper offer a practical approach to understanding how moral learning occurs as well as the role of mentors and educators in facilitating that learning.
Using Rest's Four Component Model--moral sensitivity, judgement, motivation, and action--they describe powerful campus initiatives for moral growth, including service learning, civic engagement, campus judicial systems, diversity and social justice initiatives, and sustainability efforts. Guidelines for effective moral mentorship are examined, and assessment approaches are described in detail.
This is the 139thvolume of this Jossey-Bass higher education quarterly series. An indispensable resource for vice presidents of student affairs, deans of students, student counselors, and other student services professionals, New Directions for Student Services offers guidelines and programs for aiding students in their total development: emotional, social, physical, and intellectual.
EDITORS' NOTES 1
Debora L. Liddell, Diane L. Cooper
1. Moral Development in Higher Education 5
Debora L. Liddell, Diane L. Cooper
This chapter traces research on the moral development of college students while providing a rationale for exploring the need for attention to this topic on campus.
2. Identifying and Working Through Teachable Moments 17
Debora L. Liddell
This chapter explores the application of learning theory—particularly the role of cognitive dissonance—in helping students make moral decisions.
3. The Intersection of Service-Learning and Moral Growth 27
Joel H. Scott
This chapter explores ways service-learning activities, facilitated discussions, and personal refection can contribute to moral growth.
4. Promoting Civic Engagement to Educate Institutionally for Personal and Social Responsibility 39
Karen D. Boyd, Sarah Brackmann
Civic engagement has seen renewed emphasis as a method for increasing the personal and social responsibility of college students.
5. Conduct Systems Designed to Promote Moral Learning 51
James M. Lancaster
Student conduct systems are important institutional units where students can explore their actions through a structured process aimed toward moral learning.
6. Promoting Moral Growth Through Pluralism and Social Justice Education 63
Dafina Lazarus Stewart
This chapter looks at the relationship between moral growth and teaching about diversity, multiculturalism, and social justice on the college campus.
7. Sustainability as Moral Action 73
Merrily S. Dunn, Jeanne S. Hart-Steffes
This chapter explores how to help college students view environmental, social, and economic sustainability as a moral act of social justice.
8. The Role of the Campus Professional as a Moral Mentor 83
Margaret A. Healy, James M. Lancaster, Debora L. Liddell, Dafina Lazarus Stewart
This chapter charges campus professionals to assume the role of moral exemplar, to be someone worth emulating, to be reflective and purposeful in their relationships with students.
9. Providing Evidence in the Moral Domain 93
Diane L. Cooper, Debora L. Liddell, Tiffany J. Davis, Kira Pasquesi
This chapter provides the reader a description of the various approaches and instruments available for the measurement of moral development and their utility to the scholar-practitioner.
INDEX 105