Facilitating with Ease!: Core Skills for Facilitators, Team Leaders and Members, Managers, Consultants, and Trainers, New and Revised Edition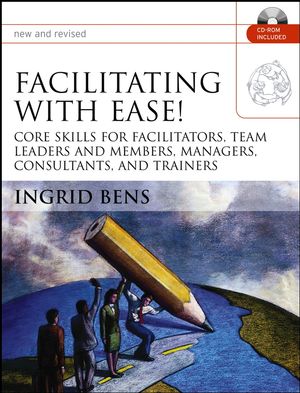 Facilitating with Ease!: Core Skills for Facilitators, Team Leaders and Members, Managers, Consultants, and Trainers, New and Revised Edition
ISBN: 978-1-118-04675-3 January 2011 Jossey-Bass 224 Pages
Description
Facilitating with Ease! is an updated version of the best-selling resource that offers easy-to-follow instructions, techniques, and hands-on tools that team leaders, consultants, supervisors, and managers have used to learn the basics of facilitation. Complete with worksheets on CD-ROM that can be customized to fit your personal needs, it's a complete facilitation workshop in a take-home format. Facilitating with Ease! shows you how to run productive meetings with skill and authority and includes the information needed to train others in your organization to become confident facilitators as well. The book is filled with dozens of exercises, surveys, and checklists that can be used to transform anyone into an effective facilitator.
Introduction.
Chapter 1: Understanding Facilitation.
What Is Facilitation?
What Does a Facilitator Do?
What Do Facilitators Believe?
What Are Typical Facilitator Assignments?
Differentiating Between Process and Content.
Core Practices Overview.
Focus on Questioning.
Questioning Formats.
Sample Probing Questions.
The Language of Facilitation.
The Rules of Wording.
Managing the Flip Chart.
What Does Neutral Mean?
How Assertive Can a Facilitator Be?
Who Can Facilitate?
Balancing the Roles of Leader and Facilitator.
Wearing More Than One Hat.
Role Dilemmas.
Facilitation in the Classroom.
Facilitation As a Leadership Style.
Best and Worst Facilitator Practices.
Facilitator Behaviors and Strategies.
Facilitation Cue Card.
Core Practices Observation Sheet.
Process Flow Observation Sheet.
Facilitation Skill Levels.
Facilitation Skills Self-Assessment.
Chapter 2: Facilitation Stages.
1. Assessment and Design.
2. Feedback and Refinement.
3. Final Preparation.
4. Starting a Facilitation.
5. During a Facilitation.
6. Ending a Facilitation.
7. Following Up on a Facilitation.
Chapter 3: Knowing Your Participants.
Conducting an Assessment.
Group Assessment Survey.
Comparing Groups to Teams.
Understanding Team Stages.
Forming.
Storming.
Norming.
Performing.
Facilitation Strategies Chart.
Team Effectiveness Survey.
Chapter 4: Creating Participation.
Creating the Conditions for Full Participation.
Removing the Blocks to Participation.
Create Buy-In.
Manage the Participation of Leaders.
Create Targeted Norms.
High-Participation Techniques.
Group Participation Survey.
Encouraging Effective Meeting Behaviors.
Group Behaviors Handout.
Observing Group Behaviors in Action.
Peer Review.
Peer Review Worksheet.
Chapter 5: Effective Decision Making.
Know the Four Types of Conversations.
The Four Levels of Empowerment.
Clarifying the Four Empowerment Levels.
Shifting Decision-Making Paradigms.
The Six Decision-Making Options.
Decision Options Chart.
The Importance of Consensus.
Things to Watch for in Decision Making.
Effective Decision-Making Behaviors.
Steps in the Systematic Consensus-Building Process.
Consensus Building Worksheet.
Symptoms, Causes and Cures of Poor Decisions.
Decision Process Survey
Chapter 6: Facilitating Conflict.
Comparing Arguments and Debates.
Steps in Managing Conflict.
Step 1: Venting People's Emotions.
Listen–Empathize–Clarify–Seek Permission–Resolve.
Step 2: Resolving Issues.
The Five Conflict Options.
The Five Options in Action.
Conflict Management Norms.
Giving and Receiving Feedback.
The Eight-Step Feedback Process.
The Language of Feedback.
Making Interventions.
Intervention Wording.
Intervention Wording for Specific Situations.
Dealing with Resistance.
Common Conflict Dilemmas.
The Collaborative Conflict Management Process.
Interpersonal Conflict Worksheet.
Group Conflict Checklist.
Conflict Observation Sheet.
Conflict Effectiveness Survey.
Chapter 7: Meeting Management.
Meetings That Work.
Our Meetings Are Terrible!
The Fundamentals of Meeting Management.
Balancing the Roles of Chairperson and Facilitator.
Using a Written Process Check.
Sample Exit Survey Elements.
Meeting Effectiveness Survey.
Facilitating Teleconferences.
Chapter 8: Process Tools for Facilitators.
Visioning.
Sequential Questioning.
Brainstorming.
Written Brainstorming.
Facilitative Listening.
Multi-Voting.
Gap Analysis.
Force-Field Analysis.
Root-Cause Analysis.
Decision Grids.
Troubleshooting.
Wandering Flip Charts.
Exit Surveys.
Survey Feedback.
Priority Setting.
Needs and Offers.
Systematic Problem Solving.
Systematic Problem Solving Worksheets.
Chapter 9: Process Designs.
Introduction to the Sample Agendas.
1. Creating a Mission Statement and Objectives.
2. Work Planning, Roles and Responsibilities.
3. Priority Setting/Cutback Planning.
4. Inter-Group Negotiation.
5. Finding and Solving Problems.
6. Core Program Development.
7. Survey Feedback/Issue Census.
8. New Leader Integration.
9. Transition Planning.
10. Process Improvement.
Session Planning Worksheet.
About the Author.
Acknowledgments.
Bibliography.
How to Use the Accompanying CD-ROM.