Facilities Manager's Desk Reference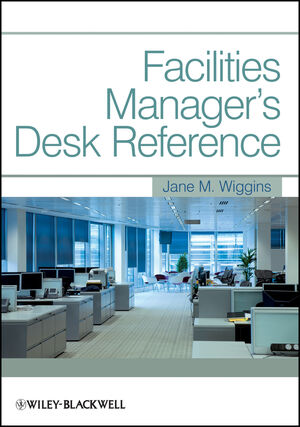 Facilities Manager's Desk Reference
ISBN: 978-1-444-32047-3
May 2010, Wiley-Blackwell
568 pages
Description
In the course of their work, the facilities manager will face a range of complex and often challenging tasks, sometimes concerned with a single business premises, often across an entire property portfolio. To help with those tasks, the Facilities Manager's Desk Reference provides the facilities manager with an invaluable source of highly relevant, practical information on the all the principal facilities management services, as well as information on legal compliance issues, the development of strategic policies and tactical best practice information.

With a clear practitioner perspective the book covers both hard and soft facilities management issues and is presented in an easy to read, concise format. The Facilities Manager's Desk Reference will be a first point of reference for all busy facilities managers and will save them time by providing access to the information needed to ensure the safe, effective and efficient running of any facilities function. It will also serve as a useful overview for students studying for their professional and academic qualifications in facilities management.
List of Abbreviations.
Introduction.
1 History of Facilities Management.
2 Key Drivers of FM.
3 Key Activities in FM.
4 Delivering FM – FM Strategy.
5 Outsourcing.
6 Financial Management.
7 Property and Estates Management.
8 Property Legislation and Leases.
9 Developing New Buildings.
10 Project Management.
11 Space Management.
12 Accommodation Management.
13 Procurement.
14 Contracts and Contract Management.
15 Legislation.
16 Legislation Affecting FM Activities.
17 Fire Safety and Legislation.
18 Electrical Supplies and Electrical Safety.
19 Accessibility.
20 First Aid at Work.
21 Asbestos.
22 Water Supplies and Water Safety.
23 Construction Design and Management Regulations.
24 Business Continuity.
25 Maintenance – Definitions and Strategies.
26 Mechanical and Electrical Systems and their Maintenance.
27 Telecommunications and Networks.
28 Grounds and External Areas.
29 Fabric Maintenance.
30 Energy Management.
31 Front of House.
32 Housekeeping and Cleaning Services.
33 Security Management.
34 Customer Relations.
35 Waste Management.
36 Catering and Hospitality Services.
37 Quality Management.
38 Document Management Services.
Index.
"It provides a very comprehensive evaluation of most of the major issues that any facilities manager is likely to face in the day-to-day management of property . . . Overall this is a very useful text for any practitioner in the property or facilities management field providing a ready reference to a wide range of property management practices. It is also a very useful reference for students studying facilities management and wanting a very comprehensive introduction to the field." (Property Management, 2011)
"As for students, this book may bridge a lot of the 'gaps' that they may have experienced between theory and practice, as it has been written to be more practical than theoretical. Therefore, this book is much easier to understand and it will provide them with the much needed clarity on the profession. This book is high on my list of recommendations and I think that Jane has done a fantastic job in putting it together. I hope that a lot of other people will give it the same amount of appreciation that I have, once they have read it." (Essential fm Report, September/October 2010)
Contains essential data and checklists.
Acts as a ready reckoner for information.
Covers all the principal FM services.
Has practitioner perspective.
Saves time by bringing together essential, useful and practical information.
Benefits students whose courses do not prepare them for the practicalities of professional practice.