Faculty and First-Generation College Students: Bridging the Classroom Gap Together: New Directions for Teaching and Learning, Number 127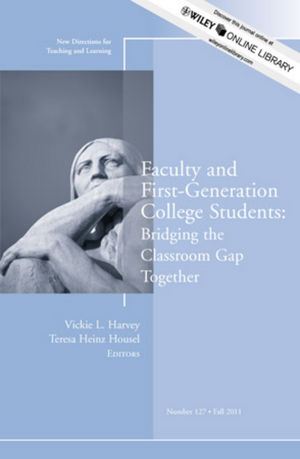 Faculty and First-Generation College Students: Bridging the Classroom Gap Together: New Directions for Teaching and Learning, Number 127
ISBN: 978-1-118-20791-8
Sep 2011, Jossey-Bass
128 pages
Description
Gain a greater understanding of the academic, cultural, and social experiences of first-generation college students (FGS). Fascinating, heart-touching, and important, the research and the stories presented here enlighten what FGS often have to overcome to successfully complete their degrees.

With an emphasis on improving FGS' college success, retention, and graduation rates, this volume first covers common obstacles and the trend of FGS continuing on for graduate degrees. Section Two discusses the complex interplay of social, academic, emotional, and financial influences on academic performance. The chapters collectively affirm that the commitment of university resources is critical to college success.

This is the 127th volume of the Jossey-Bass higher education quarterly report New Directions for Teaching and Learning, which offers a comprehensive range of ideas and techniques for improving college teaching based on the experience of seasoned instructors and the latest findings of educational and psychological researchers.
Foreword 1
Janice Wiggins

A first-generation college student and director of Indiana University-Bloomington's Groups Program, Janice Wiggins introduces the volume by advocating for the need to effectively serve fi rst-generation college students. The Groups Program is one of the nation's foremost higher education programs that holistically assists fi rst-generation and lowincome college students with adjusting to campus culture.
1. Introduction: Shall We Gather in the Classroom? 5
Teresa Heinz Housel, Vickie L. Harvey
The volume's coeditors discuss the increasing number of firstgeneration college students at higher-education institutions today.
However, academic personnel do not always understand why FGS struggle academically, socially, and emotionally on campus; thus, this volume extends the existing FGS-related literature and offers ways to help FGS achieve college success.
SECTION ONE: THE NEW PATTERN: FIRST-GENERATION COLLEGE STUDENTS AS GRADUATE STUDENTS
2. When First-Generation Students Go to Graduate School 13
Brett Lunceford
FGS often navigate through higher education using a system of trial and error. Refl ecting on his errors in applying to graduate schools, Lunceford offers practical step-by-step advice for other FGS who wish to pursue graduate study.
3. First-Generation Latina Graduate Students: Balancing Professional Identity Development with Traditional Family Roles 21
Valerie Lester Leyva
Like many FGS, Leyva was unprepared for the stratifi ed social structure and expectations of campus culture; this lack of preparation is often compounded for ethnic minorities. Leyva uses ethnographic interviews to examine how Latina women in her university's department manage gender and familial roles with college demands.
4. Learning a New World: Refl ections on Being a First-Generation College Student and the Infl uence of TRIO Programs 33
LaKresha Graham
Graham emphasizes the TRIO programs' important role in supporting FGS as they navigate unfamiliar academic culture. The chapter asserts that Upward Bound, Student Educational Support Services, and the McNair Scholars Program are increasingly important as more FGS pursue graduate studies.
SECTION TWO: FIRST-GENERATION STUDENTS JOIN THE UNDERGRADUATE RANKS
5. Faculty Perceptions of the First-Generation Student Experience and Programs at Tribal Colleges 41
Jacqueline J. Schmidt, Yemi Akande
The authors examine barriers to success that Native-American FGS face at tribal colleges, and offer specifi c recommendations for improved student services based on the authors' interviews with faculty at five tribal colleges.
6. Understanding the First-Generation Student Experience in Higher Education Through a Relational Dialectic Perspective 55
Russell Lowery-Hart, George Pacheco Jr.
Russell Lowery-Hart and George Pacheco Jr. use interviews and focus groups with FGS to examine the tensions they often experience due to lack of family support, fi nancial worries, poor academic preparation, and other barriers. Because support programs often isolate and further marginalize FGS, Lowery-Hart and Pacheco argue that college personnel must realize that the failure to ""fit in"" can lead to students' incapacity for positive relationships with the college and peers.
7. First-Generation Issues: Learning Outcomes of the Dismissal Testimonial for Academically Dismissed Students in the Arts & Sciences 69
Jennifer Brost, Kelly Payne
Studies indicate that FGS drop out of college at higher rates than non-FGS. To extend the existing research, Brost and Payne conducted surveys with FGS who are on academic dismissal to examine what specific issues led the students to fail academically.
8. A Social Constructionist View of Issues Confronting First-Generation College Students 81
Stephen Coffman
Coffman uses interviews with FGS to argue that race and class are two areas in which students experience tension when transitioning into campus culture. When college personnel understand the social influences on FGS' college experiences, they can better assist the students through appropriate support programs.
9. Critical Compassionate Pedagogy and the Teacher's Role in First-Generation Student Success 91
Richie Neil Hao
Hao asserts that critical compassionate pedagogy allows him to better meet the pedagogical needs of FGS. He advocates for this pedagogical perspective, arguing that many instructors do not consider the different pedagogical needs of underserved student populations such as FGS.
10. Gathering Ourselves and Our Students: Concluding Remarks 99
Vickie L. Harvey, Teresa Heinz Housel
In this concluding chapter, Harvey and Heinz Housel refl ect on the book's contribution to the research on FGS, discuss common questions that FGS have about attending college, and assert the need for effective campus support programs.
INDEX 103