Faculty of Color: Teaching in Predominantly White Colleges and Universities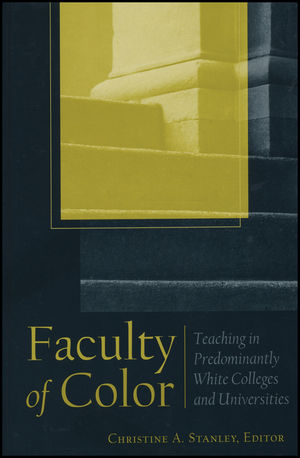 Faculty of Color: Teaching in Predominantly White Colleges and Universities
ISBN: 978-0-470-62313-8 June 2006 Jossey-Bass 396 Pages
Description
Combining an overview of current research literature and 23 engaging narratives, Faculty of Color invites deeper dialogue on the experiences of faculty of color teaching in predominantly white institutions. By raising issues for commentary and investigation, the book challenges its readers to adopt effective strategies for the recruitment and retention of faculty of color in higher education. 

The authors represent a variety of disciplines and share firsthand experiences that range from teaching, recruitment, research, mentoring, institutional climate, and administration, to relationships with colleagues as well as students. Through their stories, they are able to offer useful insights into
Teaching styles and how they affect promotion decisions
The impact of mentoring relationships
Collegiality in the campus and university setting
Separating self-identity from group membership
Managing service activities
Understanding and dealing with racism
Faculty of Color is intended for senior administrators and policymakers, faculty development professionals, current faculty, and future faculty of color who are contemplating academia. Each chapter offers a variety of recommendations designed to guide predominantly white colleges and universities in working to ensure that their institutions continue to change in substantive ways.
About the Authors.
Preface.
Acknowledgments.
1 An Overview of the Literature (Christine A. Stanley).
2 Succeeding in the Face of Doubt (Stephanie G. Adams).
3 Do I Have to Be Black or Brown to Count? An Appeal for Broad Appreciation and Understanding of Diversity (Karla Anhalt).
4 Free to Be the Me You See: Discovering the Joy of Teaching (K. Denise Bane).
5 "Are You Here to Move the Piano?" A Latino Reflects on Twenty Years in the Academy (James F. Bonilla).
6 The Temple of My Unfamiliar (Fred A. Bonner, II).
7 Racism Will Not Go Away and Neither Will We: Two Scholars of Color Examine Multicultural Education Courses (Bryan Brayboy, Maria C. Estrada).
8 In Search of Community: The Challenges and Successes of an Isolated Engineer (Karen Butler-Purry).
9 Solitary Sojourn: An American Indian Faculty Member's Journey in Academe (Karen Sunday Cockrell).
10 Putting the Color in Colorado: On Being Black and Teaching Ethnic Studies at the University of Colorado–Boulder (Adrian Gaskins).
11 Living, Breathing, Teaching Sociology: Using the Micro to Illuminate the Macro (Sarah N. Gatson).
12 Can a Brotha' Get a Break? Teaching on a Majority White Research University Campus (Jeffrey J. Guidry).
13 Just Because I Choose to Be Me (Reem Haj-Ali).
14 Anatomy of "Difference:: The Meaning of Diversity and the Diversity of Meaning (Rashmi Jaipal).
15 Color in the Interstice, or, What Color, This Faculty of Color? (Leswin Laubscher).
16 Reflections From a Minority Faculty in a Majority Institution (Cheryl B. Leggon).
17 Tenure on My Terms (Antoinette Halsell Miranda).
18 Teaching and Researching "The Politics of Race" in a Majority White Institution (Byron D'Andra Orey).
19 Negotiating Identity and Learning From a Native Pacific Perspective: Contradictions of Higher Learning in Cultural Diversity Classes (Michael P. Perez).
20 Learning to Play the Game (Anthony D. Ross).
21 I'm Just a Black Woman Troubling the Status Quo (Shari Saunders).
22 Challenging Racial Battle Fatigue on Historically White Campuses: A Critical Race Examination of Race-Related Stress (William A. Smith, Tara J. Yosso, Daniel G. Solórzano).
23 Walking Between Two Cultures: The Often Misunderstood Jamaican Woman (Christine A. Stanley).
24 Institutional Barriers and Myths to Recruitment and Retention of Faculty of Color: An Administrator's Perspective (Christine Yoshinaga-Itano).
25 Summary and Key Recommendations for the Recruitment and Retention of Faculty of Color (Christine A. Stanley).