Failure Analysis of Brittle Materials: Advances in Ceramics, Volume 28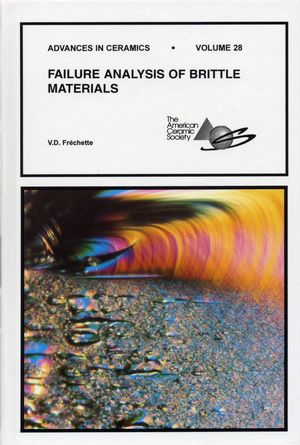 Failure Analysis of Brittle Materials: Advances in Ceramics, Volume 28
ISBN: 978-0-944-90430-5 September 1990 240 Pages
Description
Fractures are discussed theoretically and practically. This book represents a conscious effort on the part of the author to detail the "life" of a crack, from its inception, through its growth, to its culmination. The author is careful to define all key terms within the text, making this book an excellent reference for anyone working with brittle materials.
Table of contents
Initiation and Development of Brittle Failure.

Fundamental Markings on Crack Surfaces.

Pattern of Forking.

Seeds of Failure.

Estimation of Stress at Failure.

Effects at Inclusions.

Anisotropic Materials.

Procedures and Techniques.

Common Conditions of Failure.

Examples in Practice (Case Studies of Ffracture in Consumer Products).