Fair, Geyer, and Okun's, Water and Wastewater Engineering: Water Supply and Wastewater Removal, 3rd Edition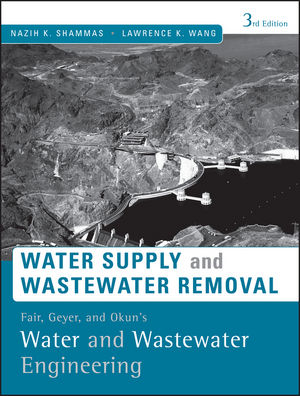 Fair, Geyer, and Okun's, Water and Wastewater Engineering: Water Supply and Wastewater Removal, 3rd Edition
ISBN: 978-1-118-02695-3
Feb 2011
860 pages
Description
Based on the classic text by Fair, Greyer, and Okun, this new edition has been completely revised and updated including eight completely new chapters by university professors and engineers practicing in the field. It reflects current practice, includes access to an academic version of the commercial software Haestad Methods Water Solutions by Bentley, and now includes homework problems.

This is a time of mounting urbanization and industrialization and resulting stress on water and wastewater systems. Clean and ample sources of water for municipal uses are becoming harder to find and more expensive to develop. Effective design and efficient operation of engineering works ask, above all, for a fuller understanding and application of scientific principles. The results of scientific research are being incorporated with remarkable success in new designs using both U.S. and SI systems equations, examples and problems as well as new operating procedures. This classic text, now updated, grounds readers in both the science and art of water and wastewater engineering that global engineers need to service their customers and communities.
Chapter 1 Introduction to Water Systems.
Chapter 2 Water Sources: Surface Water.
Chapter 3 Water Sources: Groundwater.
Chapter 4 Quantities of Water and Wastewater Flows.
Chapter 5 Water Hydraulics.
Chapter 6 Water Distribution Systems.
Chapter 7 Water Distribution Systems: Modeling and Computer Applications.
Chapter 8 Pumping Storage and Dual WaterSystems.
Chapter 9 Cross Connection Control.
Chapter 10 Introduction to Wastewater Systems.
Chapter 11 Hydrology Rainfall and Runoff.
Chapter 12 Urban Runoff and Combined Sewer Overflow Management.
Chapter 13 Hydraulics of Sewer Systems.
Chapter 14 Design of Sewer Systems.
Chapter 15 Sewerage Systems Modeling and Computer Applications.
Chapter 16 Sewer Material, Appurtenances, and Maintenance.
Chapter 17 Trenchless Technology and Sewer System Rehabilitation.
Chapter 18 Alternative Wastewater Collection Systems.
Chapter 19 Engineering Projects Management.
Chapter 20 Prevention through Design and System Safety.
Two new co-authors, known and proven in the civil and environmental community - Nazih K. Shammas and Lawrence K. Wang.
Eight new chapters.
Example problems and homework exercises.
The book website will include the instructor solutions manual, and image gallery.
Solved Problems - a reliable problem solving experience for students is carried throughout the text and demonstrated in every example problem to reinforce best practices.
Photos and Illustrations are used throughout the text to clarify infrastructure systems and show examples of built and constructed water supply and wastewater collection features.
Current Water and Wastewater Infrastructure Issues.
Example Problems with both U.S. and SI Units.
Applied Hydraulics and Hydrology.
Prevention through Design (PtD) and System Safety.
Software - Included with this text is access to selected software from Haestad Methods Water Solutions by Bentley. Multiple software exhibited in the text include: WaterGEMS , SewerCAD, and StormCAD.