Fair Value Measurements: Practical Guidance and Implementation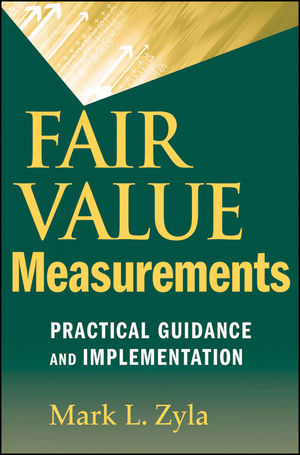 Fair Value Measurements: Practical Guidance and Implementation
ISBN: 978-0-470-58877-2
Dec 2009
384 pages
Description
A hands-on volume for financial executives with guidance on the fair value measurement process
In today's dynamic and volatile markets, whether buying or selling, what corporate officers need to know is the worth of an asset today, a task that for many has become complex and at times confusing. Fair Value Measurements: Practical Guidance and Implementation demystifies this topic, offering you a nuts-and-bolts guide of the most recent developments in preparing financial statements using fair value measurements. This straightforward book covers the best practices on measuring fair value in a business combination and how to subsequently test the value of these assets for impairment.
Filters complicated insider concepts into easy-to-understand information on the valuation specialist's function
Discusses the many new FASB pronouncements involving fair value
Instantly familiarizes you on the ins and outs of fair value financial disclosure
Well-written, conversational in tone, and filled with valuable insights, Fair Value Measurements: Practical Guidance and Implementation lifts the veil of confusion from the substantial and growing requirements for fair value disclosures.
Preface.
Acknowledgments.
About the Author.
CHAPTER 1 Fair Value Accounting.
APPENDIX 1A Fair Value Accounting and the Current Economic Crisis.
CHAPTER 2 Fair Value Measurements in Business Combinations and Subsequent Testing for Impairment.
CHAPTER 3 The Nature of Intangible Assets.
CHAPTER 4 The Cost Approach.
CHAPTER 5 The Market Approach.
CHAPTER 6 The Income Approach.
CHAPTER 7 Advanced Valuation Methods for Measuring the Fair Value of Intangible Assets.
CHAPTER 8 Measuring the Remaining Useful Life of Intangible Assets in Financial Reporting.
CHAPTER 9 Fair Value Measurements of Private Equity and Other Alternative Investments.
CHAPTER 10 Fair Value Measurements under IFRSs.
CHAPTER 11 Disclosures in Fair Value Measurements.
CHAPTER 12 Auditing Fair Value Measurements.
CHAPTER 13 Fair Value Measurement Case Study.
APPENDIX 13A Suggested Case Study Solutions.
Information Request—SFAS 142.
Information Request for Business Combinations—SFAS 141R.
Glossary of International Business Valuation Terms.
Bibliography.
Index.
"...provides a hands-on guide for those involved in the fair value measurement process, whether it be financial executives preparing financial statements, valuation specialists assisting in the measurement, or management's outside auditors. The book provides the proper guidance which will alleviate much of the uncertainty in measuring fair value. It is a must for your library!" (
AICPA ABV e-Alert
, March/April 2010)
"Financial planner Mark Zyla penned this guidebook for financial executives needing to understand the fair value accounting rules that corporations must follow. It is filled with best practices and explanations of Financial Accounting Standards Board pronouncements involving fair value so any executive can understand what fair value really means." (The Alcalde, May/June 2010)