Faith, Rationality and the Passions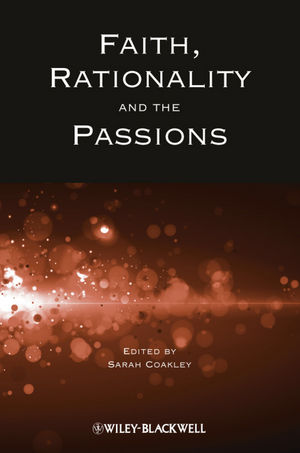 Faith, Rationality and the Passions
ISBN: 978-1-118-32168-3 July 2012 Wiley-Blackwell 272 Pages
Description
Faith, Rationality and the Passions presents a fresh and original examination of the relation of religious faith, philosophical rationality and the passions. Contributions see leading scholars refute the widely-held belief that religious Enlightenment forced passion and reason apart.
Leading Philosophical experts offer new research on the relation of faith, reason and the passions in classic and Enlightenment figures

Overturns the widely-held presumption that the Enlightenment was responsible for creating a gulf between reason and passion

Presents original and innovative research on the importance of the late-19th century creation of the category of 'emotion', and its striking difference from classic ideas of passion

Brings together secular science and philosophy of emotion with philosophical theology to seek a new integration of belief, emotion and reason
Introduction: Faith, Rationality, and the Passions 1
SARAH COAKLEY
1 Reason, Faith, and Meaning 13
CHARLES TAYLOR
2 The Invention of Fanaticism 29
WILLIAM T. CAVANAUGH
3 The Late Arrival of Language: Word, Nature, and the Divine in Plato's Cratylus 41
CATHERINE PICKSTOCK
4 Evagrius Ponticus and the Eastern Monastic Tradition on the Intellect and the Passions 67
COLUMBA STEWART, O.S.B.
5 Tears and Weeping: An Augustinian View 81
PAUL J. GRIFFITHS
6 The Non-Aristotelian Character of Aquinas's Ethics: Aquinas on the Passions 91
ELEONORE STUMP
7 Skeptical Detachment or Loving Submission to the Good? Reason, Faith, and the Passions in Descartes 107
JOHN COTTINGHAM
8 Hume Versus Kant: Faith, Reason, and Feeling 117
JOHN MILBANK
9 Kant, the Passions, and the Structure of Moral Motivation 139
JOHN HARE
10 "The Monstrous Centaur"? Joseph De Maistre on Reason, Passion, and Violence 157
DOUGLAS HEDLEY
11 Kierkegaard on Faith, Reason, and Passion 169
MEROLD WESTPHAL
12 Revolting Passions 181
THOMAS DIXON
13 Wittgenstein on Faith, Rationality, and the Passions 197
STEPHEN MULHALL
14 Psychology and the Rationality of Emotion 209
GERALD L. CLORE
15 The Neuroscience of Emotion and Reasoning in Social Contexts: Implications for Moral Theology 223
MICHAEL L. SPEZIO
16 Intellectual Emotions and Religious Emotions 241
PETER GOLDIE
Postscript: What (if Anything) can the Sciences Tell Philosophy and Theology about Faith, Rationality, and the Passions? 251
SARAH COAKLEY
Index 257