Faith-Based Marketing: The Guide to Reaching 140 Million Christian Customers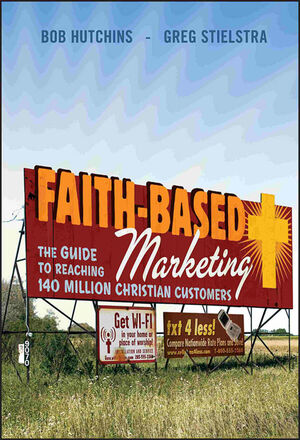 Faith-Based Marketing: The Guide to Reaching 140 Million Christian Customers
ISBN: 978-0-470-48306-0
Apr 2009
378 pages
Description
Most businesses don't have a good understanding of the faith community and how to market to this huge audience in effective, culturally sensitive ways. Many attempts to market to Christians have backfired, because the marketers had little understanding of Christians' values, taboos, and "hot buttons". Yet the size of the opportunity is enormous. Faith-Based Marketing provides everything business leaders need to understand 140 million Christian consumers and effectively reach them. It explains who Christians are, what they want, and provides traditional, new media, and word-of-mouth strategies to communicate with and engage them and their churches. The book also includes a valuable directory of top Christian organizations, churches, and events, to help marketers and business leaders find out whom to contact and how. The book includes a free subscription to a companion website with bonus content.
Acknowledgments.
Introduction.
Part I Meet the Christian Consumer.
Chapter 1 The Overlooked 140 Million Person Market.
Chapter 2 Lose Your Faith: Everything You Think You Know About Christians Is Wrong.
Chapter 3 Meet the Real Christian Consumer: They are no Different. They are so Different.
Chapter 4 Darned if You Do, Darned if You Don't: Common Mistakes Marketers Make.
Part II How to Market to Christians.
Chapter 5 Meet and Greet: How to Get to Know Your Audience.
Chapter 6 Serve, Don't Sell: Building Your Brand.
Chapter 7 Word-of-Mouth.
Chapter 8 Radio Strategies.
Chapter 9 Print Strategies.
Chapter 10 Online Strategies.
Chapter 11 Direct Marketing to Christians.
Chapter 12 Reaching Pastors: What Works and What Doesn't Work.
Chapter 13 How to Market Your Church.
Part III Key Resources for Christian Marketers.
Marketing Firms.
Public Relations Firms.
Film and Video Production.
Music Festivals.
Churches.
Radio.
Trade Associations.
Trade Media.
Retailers.
Distributors.
Magazines
Parachurch and Ministry Organizations.
Index.
Special Offer!.