Fallen Giant: The Amazing Story of Hank Greenberg and the History of AIG, 2nd Edition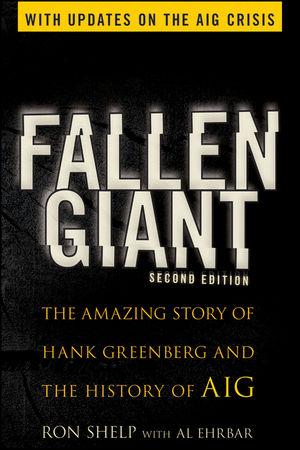 Fallen Giant: The Amazing Story of Hank Greenberg and the History of AIG, 2nd Edition
ISBN: 978-0-470-53566-0
Jul 2009
288 pages
Description
A unique insider view into the recent AIG crisis and Hank Greenberg
For nearly 40 years, Maurice "Hank" Greenberg was one of the most powerful CEOs in America. He built American International Group (AIG) from a second-rate insurer with a great Chinese franchise into one of the world's most profitable companies. But times have certainly changed, and now, in the Second Edition of Fallen Giant, author Ronald Shelp-who worked alongside Greenberg and within the AIG organization for many years-with the help of Al Ehrbar, sheds light on both AIG, the company, and Hank Greenberg, the man.
This fully updated Second Edition digs deep to uncover the latest developments for both Greenberg and AIG, such as the many lawsuits underway, including a criminal trial that will send five men-one who still works for Greenberg-to prison. It also chronicles the incredible story of how AIG was rescued by the Fed, and why the government had no choice in the matter.
Includes new insights into the latest developments for both AIG and Hank Greenberg
Reveals the real reasons behind the U.S. government's unprecedented bailout of AIG
Explores AIG's history, starting in Shanghai in 1919, along with the downfall of its CEO
Offers rare insights into how AIG almost collapsed
Filled with international intrigue and expert business acumen, the Second Edition of Fallen Giant paints a compelling portrait of both the past successes and current crises of Hank Greenberg and AIG.
Acknowledgments.
Prologue.
Introduction.
Chapter 1 How Hank Greenberg Did It.
Chapter 2 Shanghai Starr.
Chapter 3 Secrets to Building the Chinese Empire.
Chapter 4 Starr and "Wild Bill" Donovan Use Insurance to Fight the Japanese.
Chapter 5 Turning the War to Advantage.
Chapter 6 Business Is Pleasure and Pleasure Is Business.
Chapter 7 Preparing to Be a Public Company.
Chapter 8 A Nobody Beats the Ivy Leaguers.
Chapter 9 Life with Hank Greenberg.
Chapter 10 Morefar.
Chapter 11 The Mystery of What Happened at AIG.
Chapter 12 Greenberg's Fall from Grace.
Chapter 13 The Great Survivor Vows to Bounce Back.
Chapter 14 Fighting for Honor and Managing from Afar.
Chapter 15 The Battle of the Lawyers.
Chapter 16 A Losing Struggle to Save a Lifetime ' s Work.
The Cast of Characters.
Timeline.
References.
Books by Ron Shelp.
About the Author.
Index.
"Ron Shelp…does a great job of delving into the individual personalities and their motivations, leaving the reader with a front row seat to AIG's genesis, growth, and fall from grace." (
The Investment Professional
)
"All Hank Greenberg ever wanted was "an unfair advantage." That is the phrase that Ron Shelp chooses to sum up Maurice R. Greenberg, the deposed chairman of the American International Group and the subject of his "Fallen Giant: The Amazing Story of Hank Greenberg and the History of A.I.G.," and it would be hard to improve on.
Insurance, Mr. Greenberg realized early, is the game of playing only when the odds are in one's favor. For instance, if a far-flung customer wants insurance against a kidnapping — a risk that few others will touch — chances are that you can charge a lot for the policy. As Mr. Greenberg did not fail to notice, plenty of overseas executives are kidnapped, but many more are not — and they pay premiums, too.
Throw in a few other "unfair" advantages, like lobbying, cajoling or otherwise persuading governments to do one's bidding as well as, quite possibly, obscuring some of the truth about one's operations, and you have the secret of a great insurance fortune.
Accusations of cooking the books more or less forced Mr. Greenberg to resign last year. Mr. Shelp, a former Greenberg lieutenant and troubleshooter at A.I.G., wrote the book ostensibly to explain his old boss's fall from grace.
He asks some very good questions. One is why Mr. Greenberg would risk his $3 billion fortune on some "fairly modest fiddling." Another is this: What did Eliot Spitzer, New York's attorney general and now its governor-elect, have against Mr. Greenberg, whom he all but accused of criminality on Sunday morning television? Then, after the A.I.G. board forced Mr. Greenberg to resign, Mr. Spitzer neglected to charge him after all. Well, never mind. (Mr. Spitzer did file civil charges, which Mr. Greenberg is contesting.)
Mr. Shelp leaves no doubt that A.I.G. was a master at shaping and, at times, bending the rules, but he argues that the offenses that got Mr. Greenberg canned were pretty modest, and notes that reversing the deals in question resulted in a write-down of only 3 percent of A.I.G.'s equity…
…Alas, even modest fiddling, such as the "earnings management" he was accused of, is no longer tolerated in American business. Mr. Greenberg seems not to have noticed. But even if A.I.G. hadn't changed, the world had". (New York Times, December 17, 2006)