Familiar Exploitation: A New Analysis of Marriage in Contemporary Western Societies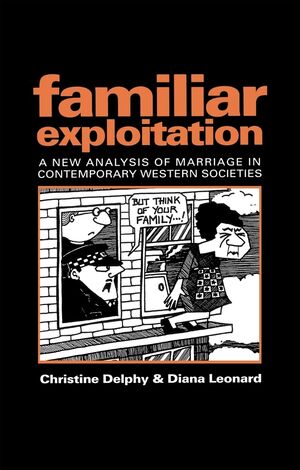 Familiar Exploitation: A New Analysis of Marriage in Contemporary Western Societies
ISBN: 978-0-745-60985-0 August 1992 Polity 312 Pages
Description
This important new book creates new terms for thinking about gender and generational relationships. In so doing it recasts conventional understandings of the family as an institution for organizing labour and consumption.

Delphy and Leonard present their wide-ranging theoretical discussion alongside a comparative study of the family in urban and rural areas. Theoretical innovation is consistently matched by empirical analysis of the family in diverse settings.
Introduction.
1. Feminism and the Family.
Part I: Critical Perspectives.
2. Part of Capitalism: Accounts of Womens' Oppression in the Family by Traditional Marxists.
3. Still Part of Capitalism? Marxist Feminist Accounts of the Family.
Part II: A New Theoretical Approach to the Western Family.
4. Housework, Household Work and Family Work.
5. The Family as an Economic System: Introduction and Common Misconceptions.
6. The Family as an Economic System: Theoretical Outline.
Part III: Empirical Studies.
7. Factory Workers' Families in England.
8. Farm Families in France.
9. The Variety of Work Done by Wives.
10. Conclusion.
Bibliography.
'... pathbreaking... Having read their analysis of the household... one can never see the family in the same way again. It will be a very useful text for teaching.'
Times Higher Education Supplement
'This work provides a fresh perspective on gender relations.' Family Matters
'Brilliant feminist analysis of the family as an economic system.' Ms Magazine
* This volume presents a major new theoretical statement about the family. * It will be regarded as a major landmark in the analysis and study of the family. * It is the first full statement of Christine Delphy's unique theoretical position on the family. * The authors are both very well-known.