Families Coping with Mental Illness: The Cultural Context: New Directions for Mental Health Services, Number 77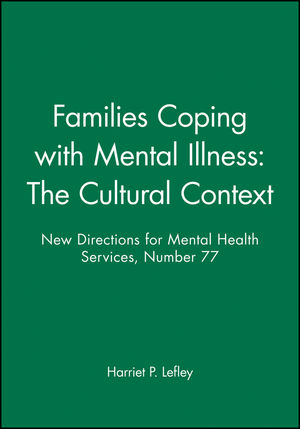 Families Coping with Mental Illness: The Cultural Context: New Directions for Mental Health Services, Number 77
ISBN: 978-0-787-91426-4 June 1998 Jossey-Bass 115 Pages
Description
This volume offers both a longitudinal and a cross-sectional perspective on involving families in the treatment of adults with severe and persistent psychiatric disorders. Mental illness is experienced, both by patients and by their families, in a historical and cultural context that varies across time, geography, personal space, and the life cycle of the illness. This sourcebook views culture in a broad sense--as a set of shared beliefs, values, behavioral norms, and practices that characterize a particular group of people who share a common identity--and examines the impact of cultural differences on mental health theory and treatment. This issue offers practice guidelines and suggestions for further research in the area of culturally competent mental health care services. This is the 77th issue of the quarterly journal New Directions for Mental Health Services.
Table of contents
THE SOCIOCULTURAL CONTEXT OF FAMILY INTERVENTIONS.
The Cultural Context of Interventions for Family Members with a Seriously Mentally Ill Relative (P. Solomon).
Reducing the Culture Clash in Family-Provider Relationships: A Bilateral Perspective (E. Mannion & M. Meisel).
Family-to-Family: A Trauma-and-Recovery Model of Family Education (J. Burland).
THE ETHNOCULTURAL CONTEXT OF THE FAMILY EXPERIENCE.
Multicultural Experiences of Family Caregiving: A Study of African American, European American, and Hispanic American Families (P. Guarnaccia).
Support Group Satisfaction: A Comparison of Minority and White Families (S. Pickett, et al.).
Family Wisdom and Clinical Support: Culturally Relevant Practice Strategies for Working with Indochinese Families Who Care for a Relative with Mental Illness (V. Vandiver & K. Keopraseuth).
Working with Native American Families (C. Johnson & D. Johnson).
The Family Experience in Cultural Context: Implications for Further Research and Practice (H. Lefley).