Family Fragments?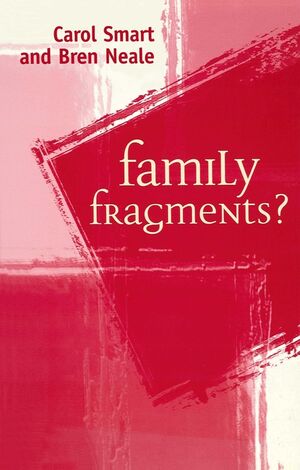 Family Fragments?
ISBN: 978-0-745-61893-7
Jan 1999, Polity
232 pages
Description
This exciting new book engages with the recent resurgence of interest in the family, offering empirical material and theoretical analysis which give rise to a fresh understanding of the nature of family practices in modern societies.

The past decade has seen the emergence of an orthodoxy which depicts the family as being in moral decline and 'blames' parents for the harms of divorce. Family Fragments? takes issue with this political vision and with the idea that divorce is inevitably a harmful process. Although some households are fragmenting, the authors argue that moral commitments are not simply sundered. Instead they put forward a different perspective on divorce as well as formulating principles of policy based on an ethic of care.

Family Fragments? draws on a qualitative study of separating parents and examines the diverse and fluid patterns of parenthood that are negotiated and re-negotiated in the aftermath of separation. The authors show that the quality of parental relationships, both before and after separation, are vital for achieving joint parenting after divorce. They examine the moral reasoning of parents and explain how this may vary considerably with the sort of solutions imposed in a legal forum.

This book has a direct bearing on current debates concerning the family and will be essential reading for those studying gender and family relations in sociology, social policy, law and social work.
1. Rethinking Family Life.
2. Family Policy and the Research Agenda.
3. Becoming a Post-divorce Parent.
4. Living Post-divorce Parenthood.
5. Constructing Post-divorce Childhoods.
6. Moral Fragments?.
7. Fragments of Power and the Reconstituted Self.
8. Law, Rights and Responsibilities.
9. Family Law, Family Fragments and Feminist Thought.
Notes.
Bibliography.
Index.
'This book investigates in a most original way the moral complexities of divorce and its legal regulation under postmodernity. By analysing the moral reasoning of divorced parents in a profound and respectful manner, Smart and Neale not only demonstrate the moral competency of parents during and after divorce, they also provide us with a highly original contribution to the ongoing discussion on the ethic of care and how to investigate it. A must for everybody involved in the politics of family law, and for scholars and practitioners interested in ethics.'
Selma Sevenhuijsen, Professor of Women's Studies, University of Utrecht
'A sensitive and original analysis of the way we think about family life, bringing together the ideal of Giddens, Beck and Beck Gernsheim with the words of a group of parents experiencing post-divorce parenting. The book is beautifully written and intellectually crafted - both a delight to read and a real step forward in thinking about parenting as distinct from partnership.' Dr Mavis Maclean, Centre for Socio-Legal Studies, Wolfson College, University of Oxford

'Smart and Neale have produced a book of major significance to our understanding of family relationships, especially in situations where a divorce has occurred. The book is a fine example of the best kind of sociology: clearly articulated theory, empirical data used carefully to interrogate that theory, both theory and data linked to some very practical questions about family law. The book is one of the most important publications on family life in the last twenty years.' Professor Janet Finch, Vice-Chancellor of Keele University

'Family Fragments? is a sensitive and insightful study. Smart and Neale emphasise the fluidity, diversity and ambiguity of post-divorce relationships. They treat their subjects as active, reflexive and moral social beings and emphasize the negotiation of commitments. They provide an incisive and helpful account of recent family theorizing as well as of legislative challenge.' The Times Higher Education Supplement

'This important new book treads the complex and contested terrain of parenting after divorce ... Family Fragments will be of interest to researchers across disciplines working in the field of family studies as well as parents negotiating the new discursive and legal frameworks of "family practices".' Journal of Family Studies
* A new book co-authored by one of the leading sociologists on the topical subject of family breakdown.
* Based on new empirical research with a large number of divorcing and divorced families.
* Advances a new theoretical understanding of the nature of family commitment after divorce.