Family Matters: How Schools Can Cope with the Crisis in Childrearing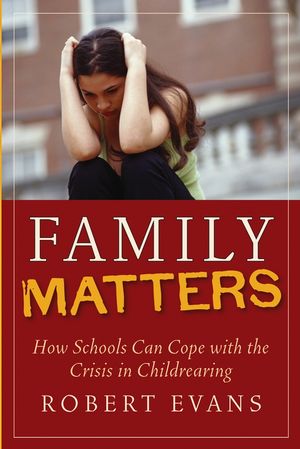 Family Matters: How Schools Can Cope with the Crisis in Childrearing
ISBN: 978-0-787-96656-0
Mar 2004, Jossey-Bass
320 pages
Product not available for purchase
Description
Students everywhere are harder to reach and teach, their attention and motivation less reliable, their language and behavior more provocative.  This is largely because parents, suffering a widespread loss of confidence and competence, are increasingly anxious about their children?s success, yet increasingly unable to support and guide them?and increasingly assertive and adversarial vis a vis the school.  Examining these trends and their underlying causes, Evans calls for a combination of limits and leverage.  At the policy level, we must rethink our notions of accountability, accepting the reality that schools cannot overcome all the forces that affect children?s lives and learning.  At the schoolhouse, educators can improve their impact by clarifying and asserting purpose (core values) and conduct (norms for behavior), and by becoming more appropriately parental vis à vis students and parents.  Evans outlines concrete ways to implement these measures, and closes with a reflection on ways to sustain hope and commitment in the face of unprecedented challenge.

"Too many Americans are eager to blame the media or teachers for their children's failure to learn. In Family Matters Rob Evans has the courage to tell the simple truth: parents in America are abdicating their responsibilities. They are not sending children to school who are ready to learn, and educators are being overwhelmed by the behavioral problems and emotional needs of under-parented children. In this persuasive and powerful book, Dr. Evans cuts through our national denial and offers both a hard-headed analysis of our parenting failures and realistic school-based solutions to these problems."
?Michael Thompson, coauthor, Raising Cain and Best Friends, Worst Enemies

"In a brave and winning combination of information, analysis, anecdotes, and personal observations, Rob Evans makes a forthright, powerful case for renewed and respectful school-family collaboration on behalf of children."
Theodore R. Sizer, Coalition of Essential Schools
Introduction.
About the Author.
Part One. The Changing Context of Child Development.
1. "Something's Gone Way Wrong".
2. The Building Blocks of Healthy Growth.
3. Back to Basics: A Parenting Primer.
4. Fast Forward: The Fragile Family.
5. Losing Connection.
6. Abandoning Authority.
7. Building Résumés.
8. The New Insecurity.
9. The New Individualism.
Part Two. Limits and Leverage: Real-Life Coping for Schools.
10. Rethinking Accountability.
11. What Makes Us, Us: Clarifying Purpose and Conduct.
12. Redefining the Home-School Partnership.
13. Resistance and Leadership: Building Faculty Will.
14. Parenting Parents: Building Faculty Skill.
15. Paradox, Realism, and Hope.
Appendix: Practical Parent Education.
Notes.
References.
Acknowledgments.
Index.
"This well-written book is wise and unique." (CHOICE; 11/1/20004; Vol. 42, No. 3)