Family Therapy: Concepts, Process and Practice, 2nd Edition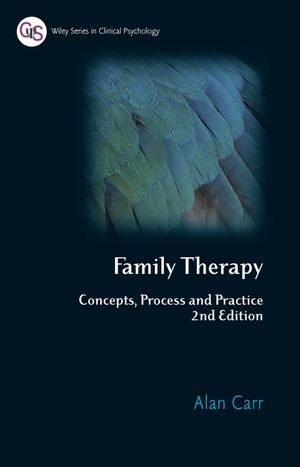 Family Therapy: Concepts, Process and Practice, 2nd Edition
ISBN: 978-0-470-03357-9 March 2006 656 Pages
Description
"Alan Carr has once more demonstrated his unique ability to combine an encyclopaedic breadth of knowledge with clear pragmatic ideas about how to apply this knowledge in clinical practice. The 2nd edition of this book is more than just an update with new sections on common factors in therapy and on integrative models of family therapy which are particularly welcome."
—Ivan Eisler, Institute of Psychiatry, Kings College London, UK
Editor, Journal of Family Therapy

"Carr's style of comprehensively considering different theories and approaches in a practical manner and demonstrating their integrative and cohesive properties is exceptionally helpful and grounding for the reader. There is little doubt that this volume will well serve students, trainees and experienced practitioners for sometime to come."
—Eddy Street, Former Editor of Journal of Family Therapy

Now in its second edition, Family Therapy: Concepts, Process and Practice has been fully updated to cover recent advances in theory and practice. It offers a critical evaluation of the major schools of family therapy, provides an integrative model for the practice of marital and family therapy, and demonstrates how this model can be used in everyday practice with a range of common child-focused and adult-focused problems. It also provides a thorough, up-to-date review of research on the effectiveness of family therapy and outlines implications for evidence-based practice.

This popular text now includes exercises that can be used by trainers and trainees to foster family therapy skills development. Other key features from the first edition are retained, including:
Chapter plans at the start of each chapter and a helpful summary of key points at the end
Suggestions for further reading
Glossary of key terms in theoretical chapters
Case examples
Full details of resources for professionals, including useful web sites.
Family Therapy: Concepts, Process and Practice is a must-have resource for all students and mental health professionals training in family therapy. It will also be of interest to experienced practitioners, and those who are involved in delivering training programmes.
About the Author.
Foreword (Alan S. Gurman).
Preface.
Acknowledgements.
Endorsements of the fi rst edition.
PART I: CENTRAL CONCEPTS IN FAMILY THERAPY.
Chapter 1: Goals of Family Therapy.
Chapter 2: Origins of Family Therapy.
Chapter 3: Theories that Focus on Behaviour Patterns.
Chapter 4: Theories that Focus on Belief Systems.
Chapter 5: Theories that Focus on Contexts.
Chapter 6: Integrative Models.
PART II: PROCESSES IN FAMILY THERAPY.
Chapter 7: The Stages of Family Therapy.
Chapter 8: Formulating Problems and Exceptions.
Chapter 9: Interventions for Behaviour, Beliefs and Contexts.
PART III: FAMILY THERAPY PRACTICE WITH CHILD- AND ADOLESCENT-FOCUSED PROBLEMS.
Chapter 10: Physical Child Abuse.
Chapter 11: Sexual Abuse.
Chapter 12: Conduct Problems.
Chapter 13: Drug Abuse in Adolescence.
PART IV: FAMILY THERAPY PRACTICE WITH ADULT-FOCUSED PROBLEMS.
Chapter 14: Distressed Couples.
Chapter 15: Depression and Anxiety.
Chapter 16: Alcohol Problems in Adulthood.
Chapter 17: Schizophrenia.
PART V: RESEARCH AND RESOURCES.
Chapter 18: Evidence-based Practice in Marital and Family Therapy.
Chapter 19: Professional Resources.
References.
Index.