Family Therapy Homework Planner, Second Edition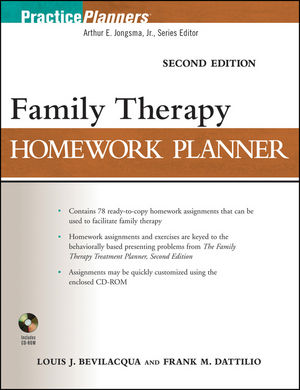 Family Therapy Homework Planner, Second Edition
ISBN: 978-0-470-50439-0
Jul 2010
264 pages
Product not available for purchase
Description
Features new and updated assignments and exercises to meet the changing needs of mental health professionals

The Family Therapy Homework Planner, Second Edition provides you with an array of ready-to-use, between-session assignments designed to fit virtually every therapeutic mode. This easy-to-use sourcebook features:
New and updated homework assignments consistent with evidence-based therapies and grouped by presenting problems including adoption, communication issues, interracial family problems, sexual abuse, and school concerns

78 ready-to-copy exercises covering the most common issues encountered by families in therapy, such as family-of-origin interference, depression in family members, divorce, financial conflict, adolescent and parent conflicts, traumatic life events, and dependency issues

Expert guidance on how and when to make the most efficient use of the exercises

Assignments that are cross-referenced to The Family Therapy Treatment Planner, Second Edition—so you can quickly identify the right exercise for a given situation or problem

A download code that contains all the exercises in a word-processing format—allowing you to customize them to suit you and your clients' unique styles and needs
Additional resources in the PracticePlanners® series:
Treatment Planners cover all the necessary elements for developing formal treatment plans, including detailed problem definitions, long-term goals, short-term objectives, therapeutic interventions, and DSMTM diagnoses.
For more information on our PracticePlanners® products, including our full line of Treatment Planners, visit us on the Web at: www.wiley.com/practiceplanners
Practice
Planners
®
Series Preface.
Acknowledgments.
Introduction.
SECTION I Activity/Family Imbalance.
Exercise I.A: When Can We Be Together?
SECTION II Addictions.
Exercise II.A: How Much Does It Cost?
Exercise II.B: Staying Clean.
Exercise II.C: What Else Can I Do?
Exercise II.D: Keeping Busy.
Section III Adoption.
Exercise III.A: This Is How I Feel.
Exercise III.B: My Safe Place.
SECTION IV Anger Management.
Exercise IV.A: Is It Passive, Aggressive, or Assertive?
Exercise IV.B: Why Am I So Angry.
Exercise IV.C: What Happens When I Get Angry.
Exercise IV.D: I Don't Have Any Bruises But I Still Hurt.
Exercise IV.E: Go Blow Out Some Candles.
SECTION V Anxiety.
Exercise V.A: It's Us Against Anxiety.
Exercise V.B: My/Our Daughter Is Afraid To Go To School.
Exercise V.C: When I Feel Anxious It Is Like… .
Exercise V.D: My Mother's Anxiety Makes Me Feel… .
SECTION VI Behavioral Problems in Children and Adolescents.
Exercise VI.A: My Child Just Won't Listen.
Exercise VI.B: Acting As If.
Exercise VI.C: We Have to Have Some Kind of Agreement.
Exercise VI.D: Charting Our Course.
SECTION VII Bipolar.
Exercise VII.A: My Mom Just Won't Stay on Her Medication.
SECTION VIII Blaming.
Exercise VIII.A: What Do I Say? What Can I Say?
Exercise VIII.B: Don't Look at Me, Ask Him.
Exercise VIII.C: The Blaming Jar.
Exercise VIII.D: What's My Job?
SECTION IX Blended Families.
Exercise IX.A: I Don't Like It When You… .
Exercise IX.B: I Have Too Many Parents.
Exercise IX.C: We Need to Agree.
SECTION X Communication Problems.
Exercise X.A: How Can I Talk So He'll Listen?
Exercise X.B: Everything Is Always Negative In Our House.
SECTION XI Death/Loss Issues.
Exercise XI.A: Remember When...
Exercise XI.B: Until We Meet Again, Love.
Exercise XI.C: The Questions, Feelings, Comments/Concerns Game.
SECTION XII Dependency.
Exercise XII.A: Dependency Go Away.
SECTION XIII Depression.
Exercise XIII.A: Do I Have To Be Depressed?
Exercise XIII.B: My Positive Script.
Exercise XIII.C: Someone in My Family Is Depressed.
Exercise XIII.D: What Am I Thinking When I Am Depressed?
Exercise XIII.E: What Do Others Value About Me?
Exercise XIII.F: My/Our Daughter is Depressed.
SECTION XIV Disengagement/Loss of Family Cohesion.
Exercise XIV.A: Circles of Perception.
SECTION XV Eating Disorders.
Exercise XV.A: I Need To Get Control.
Exercise XV.B: What Am I Thinking?
Exercise XV.C: Why Is She Doing This?
SECTION XVI Estranged Family Members.
Exercise XVI.A: We're No Longer Speaking To One Another.
Exercise XVI.B: I Miss You.
SECTION XVII Family Business Conflicts.
Exercise XVII.A: A Changing of the Guard.
Exercise XVII.B: Who Is Doing What?
SECTION XVIII Family of Origin Interference.
Exercise XVIII.A: Thanks, But No Thanks.
Exercise XVIII.B: How Can I Tell Her to Mind Her Own Business?
SECTION XIX Foster Care.
Exercise XIX.A: I Want To Go Home.
SECTION XX Geographic Relocation.
Exercise XX.A: We're Moving.
Exercise XX.B: Should We or Should We Not?
SECTION XXI Inheritance Disputes.
Exercise XXI.A: He Always Did Like You Best.
SECTION XXII Interracial Family Problems.
Exercise XXII.A: They're Calling Me a Half-Breed.
SECTION XXIII Intolerance/Defensiveness.
Exercise XXIII.A: Before and After.
Exercise XXIII.B: Why Can't You Understand My Side For Once? Part I.
Exercise XXIII.C: Why Can't You Understand My Side For Once? Part II.
SECTION XXIV Jealousy/Insecurity.
Exercise XXIV.A: I Don't Have To Be Jealous Or Insecure Anymore.
Exercise XXIV.B: I Am Not Jealous.
SECTION XXV Life-Threatening/Chronic Illness.
Exercise XXV.A: Johnny Has Leukemia.
SECTION XXVI Multiple-Birth Dilemmas.
Exercise XXVI.A: With Seven You Get an Eggroll.
Exercise XXVI.B: How Are We Going to Do This?
SECTION XXVII Pervasive Developmental Disorders.
Exercise XXVII.A: Knowing What to Expect.
SECTION XXVIII Physical Disabilities.
Exercise XXVIII.A: Why Is Dad in Bed All Day?
SECTION XXIX Physical/Verbal/Psychological Abuse.
Exercise XXIX.A: What Is Okay and What Is Not Okay?
SECTION XXX Religious/Spiritual Conflicts.
Exercise XXX.A: I Don't Know What to Believe in Anymore.
SECTION XXXI Schizophrenia.
Exercise XXXI.A: My Brother Hears Voices.
SECTION XXXII School Problems.
Exercise XXXII.A: My Teenager Is Truant.
SECTION XXXIII Separation/Divorce.
Exercise XXXIII.A: My Parents Are Getting a Divorce.
SECTION XXXIV Sexual Abuse.
Exercise XXXIV.A: I Will Be a Survivor!
Exercise XXXIV.B: Getting It Out.
Exercise XXXIV.C: I Gotta Stop Thinking This Way.
Exercise XXXIV.D: A Picture Is Worth a Thousand Words.
SECTION XXXV Sexual Preferences.
Exercise XXXV.A: I Am Still Danny.
SECTION XXXVI Suicide Attempts.
Exercise XXXVI.A: I Want Things to Get Better.
Exercise XXXVI.B: Creating a Positive Outlook.
SECTION XXXVII Unwanted/Unplanned Pregnancies.
Exercise XXXVII.A: Honey, Guess What?
References.
About the Authors.
About the CD-ROM.