Family Tree Maker For Dummies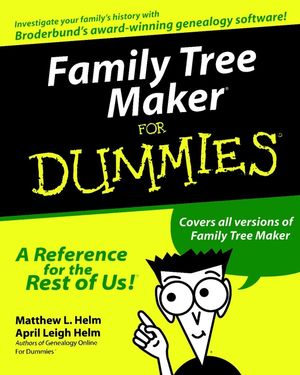 Family Tree Maker For Dummies
ISBN: 978-0-764-50661-1
Dec 1999
380 pages
Description
Do you rummage through your grandmother's attic for pictures of old relatives? Have you ever wondered where your family came from? Would you like to know if you and someone famous share a common great-great grandparent? If you've answered yes to any of these questions you might be an amateur genealogist without even knowing it!

Genealogical programs like Family Tree Maker are widely available and do not require any special training to use. That's right -- with a PC, a computer program, and an interest in discovering your roots you can begin tracing your family's history from its early years to today. Along the way you just might visit exotic lands, meet famous relatives, or dabble in a foreign language!

Family Tree Maker For Dummies is your guide to getting the most out of today's most popular genealogy software on the market. Begin by investigating the many features Family Tree Maker offers all budding genealogists. Find out what you need to get underway and how to start recording data you have collected. The book helps you create an investigation strategy that taps into close (and distant) relatives, high-tech resources, and other genealogists from around the world! You can also explore options for presenting your completed family tree, from including photos and video in the final product to making copies for relatives. Family Tree Maker For Dummies makes preserving vital family records a fun and rewarding experience.
Introduction.

PART I: Putting Your House in Order.

Chapter 1: Getting Started.

Chapter 2: Starting with the One You Know Best -- You.

Chapter 3: Giving the Lowdown on Others.

Chapter 4: Say Cheese! (Using the Scrapbook Feature).

Chapter 5: Deleting Undesirables (And Other Ways to Fix Data).

PART II: Your Handy-Dandy Research Partner.

Chapter 6: Mandatory Chapter on Citing Sources.

Chapter 7: Tools to Make Your (Research) Life Easier.

Chapter 8: Hit the Web at the Click of a Button.

PART III: Share and Share Alike.

Chapter 9: Trees, Trees Everywhere.

Chapter 10: News, Get Your News Here.

Chapter 11: Writing Your Own Book.

Chapter 12: Exporting Relatives With Your Computer.

PART IV: The Part of Tens.

Chapter 13: Ten Things You Can Do to Reduce Stress.

Chapter 14: Ten Bonuses in the Deluxe Package.

Chapter 15: Ten Things That Can Save You Time.

Chapter 16: Ten Ways to Avoid Calling Tech Support.

PART V: Appendixes.

Appendix A: Installing the Program.

Appendix B: What Does This Mean? (A Glossary of Terms).

Index.

Book Registration Information.