Fanon: A Critical Reader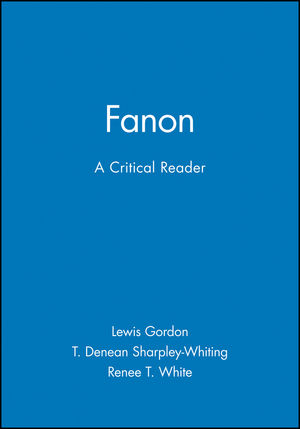 Fanon: A Critical Reader
ISBN: 978-1-557-86895-4
Aug 1996, Wiley-Blackwell
368 pages
Description
The wide range of disciplines represented here enables the volume to stand as a contextualizing work in Fanon studies. It contains new original essays on Africana philosophy, the human sciences, dialectical humanism, women of color studies, neocolonial and postcolonial studies, violence, and tragedy.
Foreword: Leonard Harris (Purdue University) & Carolyn Johnson.
Introduction.
Part I: Oppression:.
1. Fanon, Oppression and Resentment: The Black Experience in the United States: Floyd W. Hayes III (Purdue University).
2. Perspectives of Du Bois and Fanon on the Psychology of Oppression: Stanley O. Gaines, Jr.
3. Racism and Objectification: Reflections on Themes from Fanon: Richard Schitt (Brown University).
Part II: Questioning the Human Sciences:.
4. Fanon's Body of Black Experience: Ronald A. T. Judy (University of Pittsburgh).
5. The Black and the Body Politic: Fanon's Existential Phenomenological Critique of Psychoanalysis: Lewis R. Gordon.
6. To Cure and to Free: The Fanonian Project of Decolonized Psychiatry: Francoise Verges (UC Berkeley).
7. Revolutionizing Theory: Sociological Dimensions in Fanon's Sociologie D'Une Revolution: Renee T. White (Purdue University).
Part III: Identity and the Dialectics of Recognition: .
8. Casting the Slough: Fanons New Humanism for a New Humanity: Robert Bernasconi (University of Memphis).
9. Fanon, Sartre and Identity Politics: Sonia Kruks (Oberlin College).
10. The Difference Between the Hegelian and Fanonian Dialectic of Lordship and Bondage: Lou Turner.
Part IV: Fanon and the Emancipation of Women of Color: .
11. Antiblack Femininity - Mixed-Race Identity: Engaging Fanon to Reread Capecia: T. Denean Sharpley-Whiting (Purdue University).
12. Violent Women: Surging into Forbidden Quarter: Nada Elia (Western Illinois University-Macomb).
13. To Conquer the Veil: Fanon's Continued Relevance to Algeria: Eddy Souffrant (Marquette University).
14. Invisibility and Super/Vision: Fanon on Race, Veils, and Discourses of Resistance: David Theo Goldberg (Arizona State University).
Part V: Postcolonial Dreams, Neocolonial Realities: .
15. Public (Re)Memory, Vindicating Narratives, and Troubling Beginnings: Towards a Postcolonial Psychoanalytical Theory: Maurice Stevens (Santa Cruz).
16. Fanon, African and Afro-Caribbean Philosophy: Paget Henry (Brown University).
17. Fanon and the Contemporary Discourse of African Philosophy: Tsenay Serequeberhan (Simmons College).
18. On the Misadvertures of National Consciousness: A Retrospect on Frantz Fanon's Gift of Prophecy: Olufemi Taiwo (Loyola University, Chicago).
Part VI: Resistance and Revolutionary Violence:.
19. Jammin' the Airwaves and Tuning Into the Revolution: The Dialectics of the Radio in L'An Cinq du la Revolution Algerienne: Nigel Gibson (Columbia University).
20. Fanon on the Role of Violence in Liberation: A Comparison to Gandhi and Mandela: Gail M. Presby (Marist College).
21. Fanon's Tragic Revolutionary Violence: Lewis R. Gordon (Purdue University).
Afterword: Joy Ann James (University of Massachusetts & University of Colorado).
Bibliography.
* Interdisciplinary approach, including contributors from philosophy, literature and social sciences.
* Critical dimension, undermining the 'construction' of Fanon in elite postcolonial cultural studies.
* Includes new translations of key passages from Fanon, revealing previous misrepresentations.