Fanon: The Postcolonial Imagination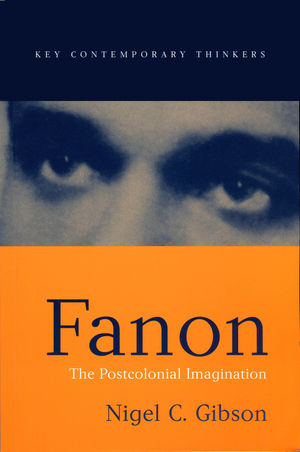 Fanon: The Postcolonial Imagination
ISBN: 978-0-745-62261-3 June 2003 Polity 264 Pages
Description
Frantz Fanon was a French psychiatrist turned Algerian revolutionary of Martinican origin, and one of the most important and controversial thinkers of the postwar period. A veritable "intellect on fire," Fanon was a radical thinker with original theories on race, revolution, violence, identity and agency.

This book is an excellent introduction to the ideas and legacy of Fanon. Gibson explores him as a truly complex character in the context of his time and beyond. He argues that for Fanon, theory has a practical task to help change the world. Thus Fanon's "untidy dialectic," Gibson contends, is a philosophy of liberation that includes cultural and historical issues and visions of a future society. In a profoundly political sense, Gibson asks us to reevaluate Fanon's contribution as a critic of modernity and reassess in a new light notions of consciousness, humanism, and social change.

This is a fascinating study that will interest undergraduates and above in postcolonial studies, literary theory, cultural studies, sociology, politics, and social and political theory, as well as general readers.
Table of contents
Acknowledgments.
Abbreviations for Fanon's Works.
Introduction.
1. The Racial Gaze: Black Slave, White Master.
2. Psychoanalysis and the Black's Inferiority Complex.
3. Negritude and the Descent into a "Real Hell".
4. Becoming Algerian.
5. Violent Concerns.
6. Radical Mutations: Toward a Fighting Culture.
7. Crossing the Dividing Line: Spontaneity and Organization.
8. Nationalism and a New Humanism.
Notes.
Bibliography.
Index
Reviews
"Caricatured as a mindless apostle of violence, Fanon emerges in Nigel Gibson's rigorous and subtle analysis as a major humanistic thinker about injustice, a serious critic of nationalism and, for the first time, as an impressively profound philosopher of modern post-colonial politics and culture."
Edward W. Said, Columbia University
"This definitive interpretation of Fanon brilliantly touches the heart. Gibson presents a compelling and engaging analysis of Fanon's original theory of the racial gaze, of revolution, and of Fanon's complex theory of violence. All the perennial themes of political theory are masterfully presented in this major book. Readers will feel morally civilized after they read it." Teodros Kiros, Harvard University

"Gibson's prose is elegant and clear and this book is, by far, the best introduction to Fanon's life and work. But it does more than this....The key idea that runs throughout the book is that of the dialectic. Gibson argues that there is an unstable, critical and creative element in the heart of FAnon's thought that seeks to move through apparently irreconcilable contradictions. This kind of analysis is what we would expect from any responsible engagement with Fanon's work and Gibson develops it very well. But he goes further and makes an original and significant contribution by showing that for Fanon this kind of progress requires the development of a fighting culture." Richard Pithouse, Sunday Independent
Features


An outstanding introduction to the work of Franz Fanon, one of the most important and controversial thinkers of postwar period.

Fanon was an anti-colonial / postcolonial critic whose work spans across the political and academic disciplines of philosophy, psychiatry, social science, and literature.

Gibson clearly sets out the intellectual and social contexts of Fanon's thought.

This book offers an original and challenging re-assessment of Fanon's contribution and its legacy.