Far from Random: Using Investor Behavior and Trend Analysis to Forecast Market Movement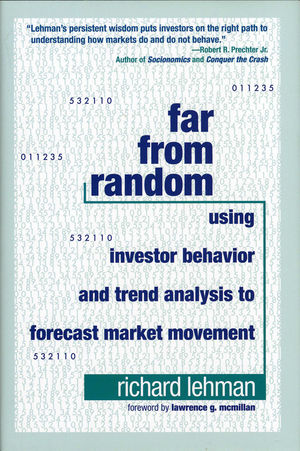 Far from Random: Using Investor Behavior and Trend Analysis to Forecast Market Movement
ISBN: 978-1-119-20470-1
Oct 2015
256 pages
Description
Since Burton Malkiel's seminal work A Random Walk Down Wall Street was published, the financial world has swallowed whole the idea that market movement is chaotic and random.

In Far from Random, Richard Lehman uses behavior-based trend analysis to debunk Malkiel's random walk theory. Lehman demonstrates that the market has discernible trends that are foreseeable. By learning to spot these trends, investors and traders can predict market movement to boost returns in anything from equities to 401(k) accounts.

Richard Lehman has been a financial professional for more than thirty years. He studied the first iterations of behavioral finance back in the 1970s as a financial marketer and has since worked in various facets of the financial industry. His early introduction to behavioral finance and the more recent introduction to trend analysis led him to this important discovery.
Foreword (Lawrence G. McMillan).
Acknowledgments.
Preface.
Introduction.
PART I A Market of What?
1  The Time Has Come.
2 Fundamentally Flawed.
3 Subjective Value.
4 Random and Efficient Markets.
5 Market Timing.
PART II Behavior, Behavior, Behavior.
6 New Thinking in Finance Isn't Financial.
7 The Behavioral Phenomenon.
8 Anomalies.
PART III Charting a Golden Path.
9 A New Market Paradigm.
10 Introduction to Trend Channel Analysis.
11 Reading Between the Lines.
12 Putting It All Together.
Index.