Farewell to the World: A History of Suicide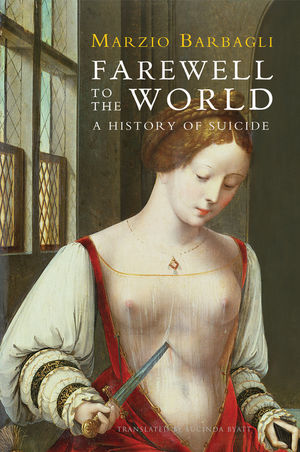 Farewell to the World: A History of Suicide
ISBN: 978-0-745-69677-5 December 2015 Polity 400 Pages
Description
What drives a person to take his or her own life? Why would an individual be willing to strap a bomb to himself and walk into a crowded marketplace, blowing himself up at the same time as he kills and maims the people around him? Does suicide or 'voluntary death' have the same meaning today as it had in earlier centuries, and does it have the same significance in China, India and the Middle East as it has in the West? How should we understand this distressing, often puzzling phenomenon and how can we explain its patterns and variations over time?

In this wide-ranging comparative study, Barbagli examines suicide as a socio-cultural, religious and political phenomenon, exploring the reasons that underlie it and the meanings it has acquired in different cultures throughout the world. Drawing on a vast body of research carried out by historians, anthropologists, sociologists, political scientists and psychologists, Barbagli shows that a satisfactory theory of suicide cannot limit itself to considering the two causes that were highlighted by the great French sociologist Émile Durkheim – namely, social integration and regulation. Barbagli proposes a new account of suicide that links the motives for and significance attributed to individual actions with the people for whom and against whom individuals take their lives.

This new study of suicide sheds fresh light on the cultural differences between East and West and greatly increases our understanding of an often-misunderstood act. It will be the definitive history of suicide for many years to come.
Introduction

Part One: In the West

I. The Worst Sin and the Gravest Crime

II. The Key to Our Prison

III. Killing God, Oneself and Others

IV. If Poverty Does Not Protect

Part Two: In the East

V. Before Becoming a Widow

VI. Making the Strong and Powerful Tremble.

VII. The Body as a Bomb

Conclusions

"An encyclopedic but immensely readable account of the social norms that surround, and individual motives that propel, such fateful choices… a deeply insightful book that will interest suicide-prevention counselors and others who are curious about this complex topic."
Foreword Reviews
"Barbagli's study is a brilliant synthesis of the history and sociology of suicide, covering both the West and the East, from ancient martyrs to contemporary suicide bombers. He eloquently and persuasively argues for the importance of cultural factors behind huge variations in the propensity to take one's own life from one society to another."
Jeffrey Watt, University of Mississippi


"This work is the most important on the sociology of suicide in 100 years. Barbagli lays out the grand picture of changes and variations in time and space, and gives the basis for a theory that is simultaneously cultural, structural and dynamic."
Randall Collins, University of Pennsylvania


"This wide-ranging study provides fascinating insight into, and analysis of, the history and practice of suicide across a range of cultural and historical contexts. The book takes the reader on a methodical and thorough journey through the subject matter."
Canadian Journal of History