Fashion Forecasting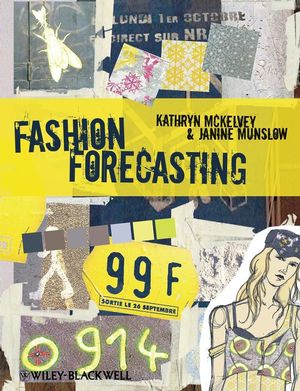 Fashion Forecasting
ISBN: 978-1-405-14004-1
Oct 2008, Wiley-Blackwell
232 pages
Description
Everyone in the fashion business needs to develop an essential survival skill: how to interpret the intelligence provided by the fashion forecasting industry, to anticipate and respond to emerging trends.





Lavishly illustrated in full colour throughout, with clear and relevant explanations of the processes involved, Fashion Forecasting is for fashion students and young professionals who already have acquired some fashion knowledge and skills. The authors interviewed the key players within this exciting industry and provide here fascinating insights into the dynamic contemporary fashion forecasting world and the varied creative roles within it - from intelligence gatherers to project consultants. The book covers how a trend is sourced, anticipated and developed, and also explores the interaction with marketing and brand development.
Part 1: The Function
.
What are fashion prediction companies? What services do they provide?.
Who are they? Here & There, WGSN, Promostyl, Trend Union, Peclers, Concepts Paris.
How do they work?.
Who are their customers – from designers to retailers, manufacturers, window dressers?.
Employees – designers, graphic designers, freelancers in design and illustration, photographers, weavers, knitters, printers etc.
The need to be first!.
Part 2: The Process.
What is 'direction'?.
How they find inspiration for a new seasons themes? – instinct, travel, exhibitions, politics, social conditions, libraries etc.
Why 'colour' first and what's involved? Fibre and fabric manufacturers.
Market levels catered for using relevant illustration styles.
How does the 'look' emerge?.
Gathering intelligence – freelance reporters, shops, retailers, freelance photographers.
Where trade fairs and international fashion shows fit in.
What is consultancy – working with customers to develop and market product.
Sampling with directional garments.
Part 3: Communicating ideas/Illustration.
As a case study (1-3):.
1. Developing trend information.
2. Generating student's own intelligence material.
3. Developing design, for example, for three themes.
Up-to-date illustration techniques – intermediate level, using the computer and software such as Adobe PhotoShop and Illustrator (raster and vector graphics) to convincingly promote a trend. Instructions on a variety of achievable effects.
Gallery of new generation of styles.
Part 4: Promotion.
Graphic techniques and achievable effects using the aforementioned software and also page layout software such as Quark Xpress/Adobe InDesign.
Simple use of typography, corporate identity, grids?.
Contemporary promotional activities/stencil campaigns, work like Bernie Reid, Lizzie Finn, Julie Verhoeven, Deanne Cheuk, but original variations.
Gallery of new methods of promotion


Shows how to interpret the intelligence provided by the industry.


Helps you to understand, anticipate and respond to trends


Explains not only how prediction companies function but also how to communicate trends using recent developments in illustration and graphics


Highly illustrated in full colour throughout