Fashion - Philosophy for Everyone: Thinking with Style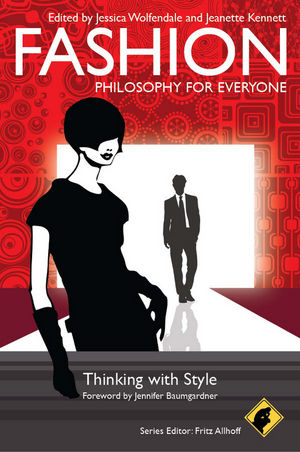 Fashion - Philosophy for Everyone: Thinking with Style
ISBN: 978-1-444-34556-8
Aug 2011
232 pages
Description
If you just can't decide what to wear, this enlightening guide will lead you through the diverse and sometimes contradictory aspects of fashion in a series of lively, entertaining and thoughtful essays from prominent philosophers and writers.
A unique and enlightening insight into the underlying philosophy behind the power of fashion
Contributions address issues in fashion from a variety of viewpoints, including aesthetics, the nature of fashion and fashionability, ethics, gender and identity politics, and design
Includes a foreword by Jennifer Baumgardner, feminist author, activist and cultural critic, editor of Ms magazine (1993-7) and regular contributor to major women's magazines including Glamour and Marie-Claire
Foreword (
Jennifer Baumgardner
).
Acknowledgments.
Introduction (Jessica Wolfendale and Jeanette Kennett).
PART 1 BEING FASHIONABLE AND BEING COOL.
1 What Makes Something Fashionable? (Anya Farennikova and Jesse Prinz).
2 Fashion, Illusion, and Alienation (Nick Zangwill).
3 Tryhards, Fashion Victims, and Effortless Cool (Luke Russell).
PART 2 FASHION, STYLE, AND DESIGN.
4 The Aesthetics of Design (Andy Hamilton).
5 Share the Fantasy: Perfume Advertising, Fashion, and Desire (Cynthia A. Freeland).
6 Computational Couture: From Cyborgs to Supermodels (Ada Brunstein).
PART 3 FASHION, IDENTITY, AND FREEDOM.
7 Wearing Your Values on Your Sleeve (Daniel Yim).
8 Fashion and Sexual Identity, or Why Recognition Matters (Samantha Brennan).
9 Slaves to Fashion? (Lauren Ashwell and Rae Langton).
10 Fashion Dolls and Feminism: How Do You Solve a Problem Like Barbie? (Louise Collins).
PART 4 CAN WE BE ETHICAL AND FASHIONABLE?
11 Sweatshops and Cynicism (Matthew F. Pierlott).
12 Women Shopping and Women Sweatshopping: Individual Responsibility for Consumerism (Lisa Cassidy).
13 A Taste for Fashion (Marguerite La Caze).
Notes on Contributors.
"Summing Up: Recommended.  Lower-division undergraduates through graduate students; general readers.  (Choice, 1 August 2012)
"All in all, this is a valuable text not just because of the marriage of the academic with the everyday, but because of the diverse issues that it touches on. It's a well-rounded effort and even the most jaded fashion person will find something new between its covers." (The Licentiate, 26 September 2011)