Fast Close: A Guide to Closing the Books Quickly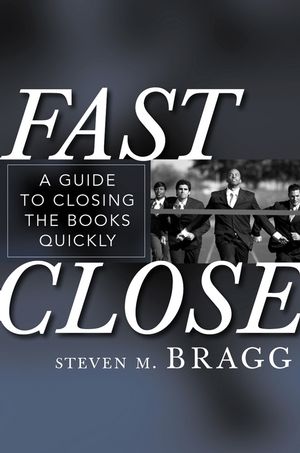 Fast Close: A Guide to Closing the Books Quickly
ISBN: 978-0-471-73640-0
Jun 2005
256 pages
Description
Written for controllers, CFOs, accounting managers, and business managers, Fast Close incorporates Steven Bragg's own personally tested guidelines to help professionals speed up the closing process, especially in response to Sarbanes-Oxley's more time-sensitive requirements. Bragg outlines numerous key improvements that, when gradually implemented together, are guaranteed to shrink the closing process down to as little as one day. Chock-full of helpful flowcharts and checklists to help readers prevent delays and bring accounting department closing procedures up to date, Fast Close explores specific instructions for closing faster, common areas of delay and how to overcome them, required controls to keep financials accurate despite the fast close, and much more. Create financial statements faster . . . much faster . . . with the expert guidance found in Steven Bragg's Fast Close.
Preface.
Chapter 1. Introduction.
Chapter 2. Your Current Closing Process.
Chapter 3. Conducting a Review of the Closing Process.
Chapter 4. Alter the Timing of Closing Activities.
Chapter 5. Revise the Contents of the Financial Statements.
Chapter 6. Optimize the Use of Journal Entries and Chart of Accounts.
Chapter 7. Standardization and Centralization.
Chapter 8. Closing the Inventory Function.
Chapter 9. Closing the Billing Function.
Chapter 10. Closing the Payroll Function.
Chapter 11. Closing the Payables Function.
Chapter 12. Closing the Cash Processing Function.
Chapter 13. Impact of Automation on the Closing Process.
Chapter 14. Ongoing Improvements in the Closing Process.
Appendix A: Comprehensive Closing Checklist.
Appendix B: Fast Close Policies and Procedures.
Appendix C: Soft Close Checklist.
Appendix D: Year-End Close Checklist.
Index.