Fast Ethernet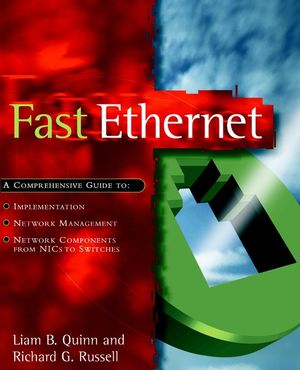 Fast Ethernet
ISBN: 978-0-471-16998-7
Jun 1997
417 pages
Product not available for purchase
Description
An extensive blueprint for understanding and implementing Fast Ethernet-quickly, efficiently, and reliably.

Written by two Compaq engineers with extensive experience designing and building Fast Ethernet networks, this comprehensive guide gives the hands-on advice you need to quickly and efficiently migrate to a low-cost, reliable, high-speed networking environment and to optimize performance. The only Fast Ethernet guide written from the network manager's point of view, it emphasizes a complete understanding of the underlying technology as the key to implementation success. Several illustrated examples depict solid strategies for integrating Fast Ethernet technology into your network without incurring lengthy downtime or compromising current system capabilities.

Quinn and Russell's Fast Ethernet:
* Describes, in accessible terms, how Fast Ethernet technology works.
* Covers all components, from NICs and repeaters to switches and routers
* Helps you analyze current and future network needs, and shows how Fast Ethernet can solve bandwidth problems.
* Provides planning and design guidelines as well as real-world scenarios.
* Arms you with network management strategies guaranteed to help keep your Fast Ethernet system performing at peak levels.
* Covers key features of Fast Ethernet equipment and how they can work for you
HOW FAST ETHERNET WORKS.

Fast Ethernet Basics.

Anatomy of a Node.

Fast Ethernet Repeaters.

Frames: The Basic Unit of Communication.

MAC and CSMA/CD: Fast Ethernet's Heart and Soul.

The Fast Part of Fast Ethernet: Network Performance.

Frame Switching, Routing, and Protocols.

HOW TO SET UP A FAST ETHERNET LAN.

Determining Network Requirements.

Fast Ethernet Network Interface Controllers.

Designing the Cable Plant.

Selecting Repeaters.

Fast Ethernet Switches.

Routers.

Using Network Management.

Appendices.

Glossary.

Index.