Fatal Exit: The Automotive Black Box Debate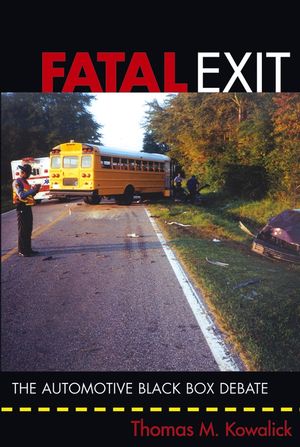 Fatal Exit: The Automotive Black Box Debate
ISBN: 978-0-471-71595-5 February 2005 Wiley-IEEE Press 352 Pages
Description
FATAL EXIT is the first and only book documenting the decades-long debate among the automotive industry, government regualtors, and safety and privacy advocates over what the public terms "automobile black boxes". The book briefly traces the history of the debate from 1974 to 2004, and then clearly presents opposing viewpoints for and against the widespread use of emerging Motor Vehicle Event Data Recorder (MVEDR) technology.
The arguments are followed by proposals to proceed with developing and utilizing the technology in ways that are both effective and respectful of individual privacy. The reader of this book will be able to develop an informed opinion as to the usefulness of MVEDRs and thus contribute intelligently to the debate as the United States Congress considers legislation that mandates this technology.
In the United States 220,935,000 registered owners of motor vehicles are becoming aware of black box technology through newspaper and magazine articles, and television news stories. Many understand that these boxes already exist in 40 million cars. Yet motorists still have many questions and concerns about widespread use of the technology. As the only book of its kind, written by an insider and expert on the subject, FATAL EXIT provides an invaluable resource for anyone interested in why these devices have caused such international controversy.
Acknowledgments.
Foreword.
Introduction.
I. SYMPTOMS OF A PROBLEM.
1 Question Everything.
2 Nothing Happens for the First Time: 1969-1998.
3 Shifting Gears: April 1998-September 2002.
11. SAFETY DEBATE.
4 NHTSA Call for Comments: October 2002.
5 Things Are Further Away in the Dark: December 2002.
6 Blowin' the Horn: January 2003.
111. SOCIETAL I S S U E S.
7 Cruise Control: February 2003.
8 Turn Signals: February to March 2003.
9 Speed Bumps: March to November 2003.
10 Legal and Privacy Issues: 1999-2004.
11 Pros and Cons and Customers of Safety Data and NHTSA Rulemaking.
12 The Road Ahead: Automotive's Second Century.
Glossary of Acronyms and Abbreviations.
Glossary of Terms.
Other Resources.
Standards.
Chronology.
Notes.
Bibliography.
Index.
"…this book documents an important phase in the technical evolution of our society's transportation system." (
IEEE Instrumentation & Measurement Magazine
, October 2005)
"...you can learn all about automotive black boxes in an new book from Thomas M. Kowalick…" (5.0 Mustang & Super Fords, June 2005)
"…a unique book that provides extensive but very useful information on a decade long debate and arguments…" (E-STREAMS, March 2005)