Fatty Acid and Lipotoxicity in Obesity and Diabetes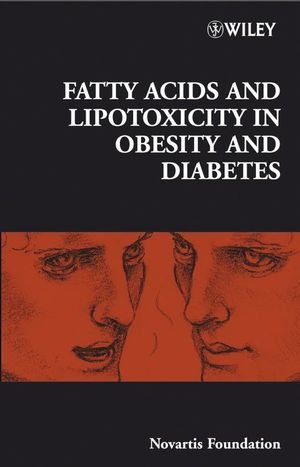 Fatty Acid and Lipotoxicity in Obesity and Diabetes
ISBN: 978-0-470-98556-4
Mar 2008
222 pages
Description
The potential lipotoxic effect of accumulation of fatty acids in non-adipose tissues is thought to be a major component in the development of insulin resistance. Chronic exposure to high concentrations of free fatty acids in the blood affects pancreatic β cell function, insulin secretion and lipid synthesis in the liver, and storage in adipose tissue. Maintaining the normal levels of fatty acids requires coordinated regulation between the liver, adipose tissue and skeletal muscle.

This book deals with the molecular aspects of fatty acid action in obesity and insulin resistance. The topics include lipid metabolism and adipose tissue biology, and β cell function and insulin resistance. Chapters deal with the molecular genetics and molecular physiology of energy homeostasis.
Symposium on Fatty acids and lipotoxicity in obesity and diabetes, held at Tsinghua University, Beijing, China, 17–19 October 2006.
Editors: Gregory Bock (Organizer) and Jamie Goode.
This symposium is based on a proposal made by Peng Li.
Bruce M. Spiegelman - Chair's introduction.
Bruce M. Spiegelman - Transcriptional control of energy homeostasis through the PGC1 coactivators.
Discussion.
Stephen O'Rahilly -  Human obesity and insulin resistance: lessons from experiments of nature.
Discussion.
Deborah M. Muoio and Timothy R. Koves - Lipid-induced metabolic dysfunction in skeletal muscle.
Discussion.
Alan D. Attie, Matthew T. Flowers, Jessica B. Flowers, Albert K. Groen, Folkert Kuipers and James M. Ntambi - Stearoyl-CoA desaturase deficiency, hypercholesterolaemia, cholestasis and diabetes.
Discussion.
Karen Reue - The role of lipin 1 in adipogenesis and lipid metabolism. Discussion.
David Carling - The role of the AMP-activated protein kinase in the regulation of energy homeostasis.
Discussion.
Gökhan S. Hotamisligil - Endoplasmic reticulum stress and inflammation in obesity and type 2 diabetes.
Discussion.
Ira Tabas, Tracie Seimon, Jerry Arellano, Yankun Li, Fabien Forcheron, Dongying Cui, Seongah Han, Chien-Ping Liang, Alan Tall and Domenico Accili - The impact of insulin resistance on macrophage death pathways in advanced atherosclerosis.
Discussion.
Sandra Lobo and David A. Bernlohr - Fatty acid transport in adipocytes and the development of insulin resistance.
Discussion.
Paul N. Black and Concetta C. DiRusso - Vectorial acylation: linking fatty acid transport and activation to metabolic trafficking.
Discussion. 
Günther Daum, Andrea Wagner, Tibor Czabany, Karlheinz Grillitsch and Karin Athenstaedt - Lipid storage and mobilization pathways in yeast.
Discussion. 
John Zhong Li and Peng Li - Cide proteins and the development of obesity.  Discussion.
General discussion I.
Visualizing brown adipose tissue with FDG-PET.
Takashi Kadowaki, Toshimasa Yamauchi, Naoto Kubota, Kazuo Hara and Kohjiro Ueki - Adiponectin and adiponectin receptors in obesity-linked insulin resistance.
Discussion.
Gabriel Pascual, Amy L. Sullivan, Sumito Ogawa, Amir Gamliel, Valentina Perissi, Michael G. Rosenfeld and Christopher K. Glass -Anti-inflammatory and antidiabetic roles of PPARγ.
Discussion.
Final discussion.
Nutrition, ageing and lipotoxicity.
Index of contributors.
Subject index.
""This book will be an excellent resource for either beginning students or more established investigators in the field.  The speakers are all top-notch researchers who gave clear and informative presentations. The integrative nature of the follow-up discussions and the excellent insights provided by the chair of the meeting throughout give the book an unusual coherence and consistency that is often lacking in broad, general reviews."" (Doody's, April 2008)