Fear and Progress: Ordinary Lives in Franco's Spain, 1939-1975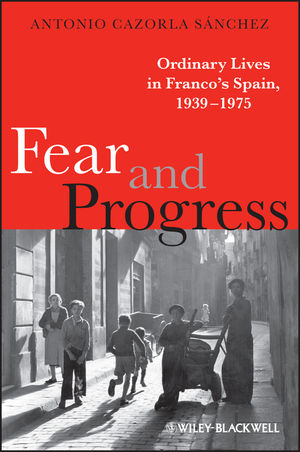 Fear and Progress: Ordinary Lives in Franco's Spain, 1939-1975
ISBN: 978-1-405-13316-6 August 2009 Wiley-Blackwell 304 Pages
Description
Utilizing hundreds of confidential documents from authorities in the Franco government,
Fear and Progress: Ordinary Lives in Franco's Spain, 1939-1975
recounts the experiences of Spanish citizens who lived during the 40-year Franco dictatorship.
Rejects traditional explanations of the length of Franco's power and the dictator's legacy
Utilizes hundreds of confidential documents from authorities in the Franco government
Provides insights into life during the Franco era: how political violence and repression were experienced; how the dictatorship exploited illusions of peace and prosperity for its own benefit; and how the regime's legacy was manipulated
Reveals the Franco government's social callousness and manipulation of events
Cannot be combined with any other offers.
Original Price:$72.90
Purchased together:$54.68
save $18.22
Table of contents
List of Figures.
List of Plates.
Note on Sources and Abbreviations.
Glossary of Key Terms.
Introduction: Ordinary Spaniards in Extraordinary Times.
1. The Politics of Fear.
Manipulating Fear.
The Fruits of Terror.
The Lost People and the New Country.
Imposing Consent.
Faking Politics.
2. The Social Cost of the Dictatorship.
From Famine to Misery.
Surviving.
The Humiliations of Misery.
Autarky's Long Agony.
Failure to Educate.
3. Migration.
The End of the Peasantry.
To the City.
To Europe.
Housing.
From Immigrants to Neighbors.
Left Behind.
4. A Changing Society.
The Altar and the Street.
Morals.
Becoming Consumers.
Leisure.
New Areas of Confusion.
5. Roads to Citizenship.
A Demobilized Society.
Old Memories, New Expectations.
The Risks of Peace.
The Beginning of the End.
Facing the Future.
Notes.
Bibliography.
Index.
Reviews
"A good solid history. ... The real-life stories of real-life people are presented and it is to these bread-and-butter issues that historians should be listening." (Reviews in History, April 2010)
Features
Recounts the experiences and memories of citizens who lived during the Franco era

Rejects traditional explanations of the length of Franco's power and the dictator's legacy

Utilizes hundreds of confidential documents from authorities in the Franco government
Provides insights into life during the Franco era: how political violence and repression were experienced; how the dictatorship exploited illusions of peace and prosperity for its own benefit; and how the regime's legacy was manipulated
Reveals the Franco government's social callousness and manipulation of events