Fearless Facilitation: The Ultimate Field Guide to Engaging (and Involving!) Your Audience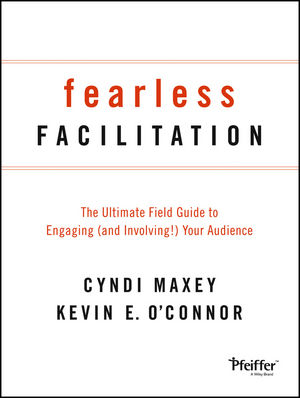 Fearless Facilitation: The Ultimate Field Guide to Engaging (and Involving!) Your Audience
ISBN: 978-1-118-41750-8
Mar 2013, Pfeiffer
208 pages
Description
If you are a facilitator with years of experience or just getting started, you will learn what it takes to create and deliver a high-powered presentation that is tailor-made to draw in your audience members and get results every time. Once you set the stage to include and connect with your audience, you will trigger memory and action like never before.
Fearless Facilitation is filled with easy-to-implement presentation techniques designed to appeal to all types of participants. You will learn how to break the "fourth wall" (the invisible wall that separates you from the audience) and engage your audience through dialogue. In addition, the authors show not only how to involve participants in the conversation but also what to do when they grow silent or argumentative.
Throughout the book a personalized "coach" helps you with answers to common questions, specific scenarios, and past nightmare experiences. The coach helps to clarify the text, calm any fear, and take the next right step. And, to further illustrate how to become a skilled fearless facilitator, the book is peppered with interviews with masters of the craft of facilitation and engagement.
Praise for Fearless Facilitation
"Maxey and O'Connor inspire readers to engage with audiences as collaborators. Experienced facilitators will be motivated to take new risks; beginners will feel prepared to actively engage an audience."
—Kathleen M. Galvin, Ph.D., Communication Studies Department, Northwestern University
"Fearless Facilitation is a blockbuster resource for engaging even the most challenging audience with confidence and purpose."
—Judy L. Schueler, Vice President and Chief Human Resource Officer, University of Pennsylvania Health System
"Through this book Maxey and O'Connor have actually facilitated a process for you to become a better facilitator. These two not only know what they're doing, they've put together one of the most practical books on the market. Read it and then go facilitate something!"
—Ron Culberson, MSW, CSP, speaker, humorist and author of Do It Well. Make It Fun
Preface xi
Acknowledgments xiii
About the Authors xv
Introduction xvii
One Heard on the Street: The Audience Does Know! 1
The Audience Doesn't Lie 1
It's About Time! 6
It All Begins with Courage 7
Three Keys to Facilitate Fearlessly 8
And on a Final and Very Important Note . . . 16
Coach's Comments 16
Two Organic Facilitation 19
Organic Facilitation Is Less Known 20
Organic Facilitation Is Healthier in the Long Run 21
Organic Facilitation Takes Time to Perfect (or, Actually, Make Appear Imperfect) 22
Intimacy Is Key 23
Coach's Comments 29
Three The Fourth Wall 33
The Wall It's OK to Break 33
Food, Fun, and Safety 34
Five Tools for Your Fearless Tool Bag 37
Three Rules for Breaking the Wall 38
Dance Naked! Th e Wisdom Is in the Room 39
How to Work (and Not Work) the Room 39
How Fred Friedman Broke the Fourth Wall 41
Coach's Comments 42
Four Have Fun with One or with One Hundred 45
Take It Professionally, Not Personally 47
As You Begin, Notice Who Is "with" You Th rough Th eir Reactions, Eye Contact, or What Seems to Be Working, Even in a Small Way 48
Be Ready to Adapt 51
Know Th at You Can't Win Th em All 53
Yes, Facilitation Works with Very Large Audiences! 54
Adapting to an Unexpectedly Small Audience 56
Coach's Comments 57
Five Dialogue Not Monologue (Worse, Duologue) 61
Conversation Is Not Easy for Most 61
Can You Converse Without a Cocktail? 62
Conversation: Begin at the Beginning 64
The Break Is Never Really a Break 65
Dialogue During Your Meeting 66
Dialogue Post-Meeting 66
Coach's Comments 67
Six The Set-Up: Making It Happen 71
The Learning Environment 72
You Can Always Facilitate, No Matter the Circumstances 75
Lessons from One Executive's Transformation 77
Coach's Comments 80
Seven Listen Live, Then Disappear! 85
What Oprah and Larry Know 86
What the Best Do Not Do 88
What the Journalist Uncovers 89
What the Orchestra Conductor Knows 90
What the Sales Professional Knows 93
Really Good Facilitators Use Th ese Questions 94
Really Good Facilitators Avoid Th ese Questions 97
What Listening Live Is Not 101
Timing Is Everything 102
Your Natural Resources 105
Coach's Comments 105
Eight Go with It! 107
Take What Th ey Give You 108
Trust! 108
When You Know More and Th ey Came to Hear It 108
When You Need to (and Should) Keep Emotion at Bay 110
When You Can't Th ink and Hit at the Same Time 111
Home Run! 112
Coach's Comments 113
Nine It's About the Audience, First and Always, in All Ways! 115
What a Ninety-One-Year-Old Knows 117
What a Professional Magician Knows 119
What an Eighth-Grade Teacher Knows 120
What Engineers Know 121
Connection Is Never Perfection 122
What the Professional Comedian Knows 123
Audiences Will React Diff erently to the Same Story 125
Avoid Death by Committee 126
Ten Yikes! A Whole Room Full of . . . 131
When Times Go Less Well Th an Planned 132
People and Groups Who Exhibit Predictable Challenges 133
People Who Are Disconnected 138
Only One Person to Facilitate 142
In Your Writing, Especially When You Need to Persuade 146
Gaining Traction 146
Keeping Momentum 147
When All Else Fails . . . People Who Won't Change, No Matter What 148
Coach's Comments 150
Eleven Conclusion: Now Is the Beginning of Your New Skill 153
Appendix A: Sure Th ings: Eight Discussion Topics Th at Never Fail 155
Appendix B: Four Keys to Making It Easier 157
Appendix C: Momentum Magic 161
Appendix D: Oops! When Meetings Don't Go So Well 163
Appendix E: Techniques for Teleconference and Virtual Meeting Facilitation 167
Index 169